"Tired he is, thirsty he is, yes thirsty; and he guides them and he searches for paths, and they say sneak, sneak." (The Two Towers: The Stairs of Cirith Ungol)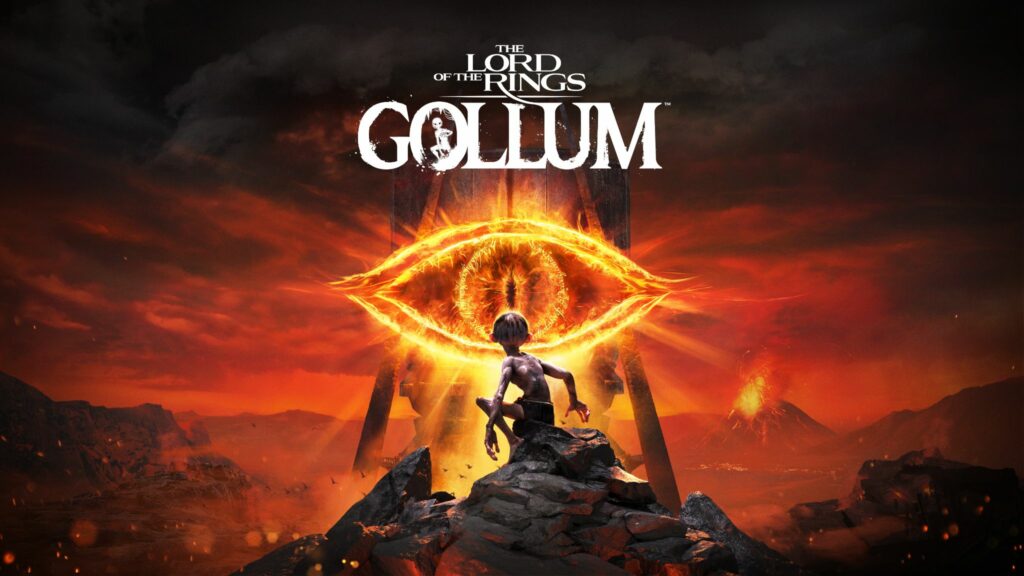 First teased in 2020, expected in 2022, The Lord of the Rings: Gollum game will finally be released May 25th this year. Jeremy Edmonds (@TolkienGuide) represented TORn at a recent virtual event with Daedalic Entertainment; he shares his thoughts on the upcoming game:
A few weeks ago, Daedalic invited TheOneRing.net and others to a special hands-on playthrough session of The Lord of the Rings: Gollum, followed by a Q&A session with Tolkien lore expert Damiri Knapheide. With almost an hour of playtime across many levels, I had the chance to see a bit of the world they have created, and the lovely chat with Damiri did nothing to dampen my enthusiasm for a full playthrough on release day, May 25th.
As a casual gamer on the best of days, I was not the easiest guest for our hosts to guide through each level – we had many a laugh at my ineptitude with various controller skills, but I was still having a blast, and didn't feel like I was in over my head or wouldn't enjoy the game at my own speed and skill level. The gameplay is focused on stealth, but I was here for the story driven experience – seeing Mirkwood and Mordor through the eyes of talented artists, who clearly have a passion and deep respect for The Lord of the Rings and The Hobbit.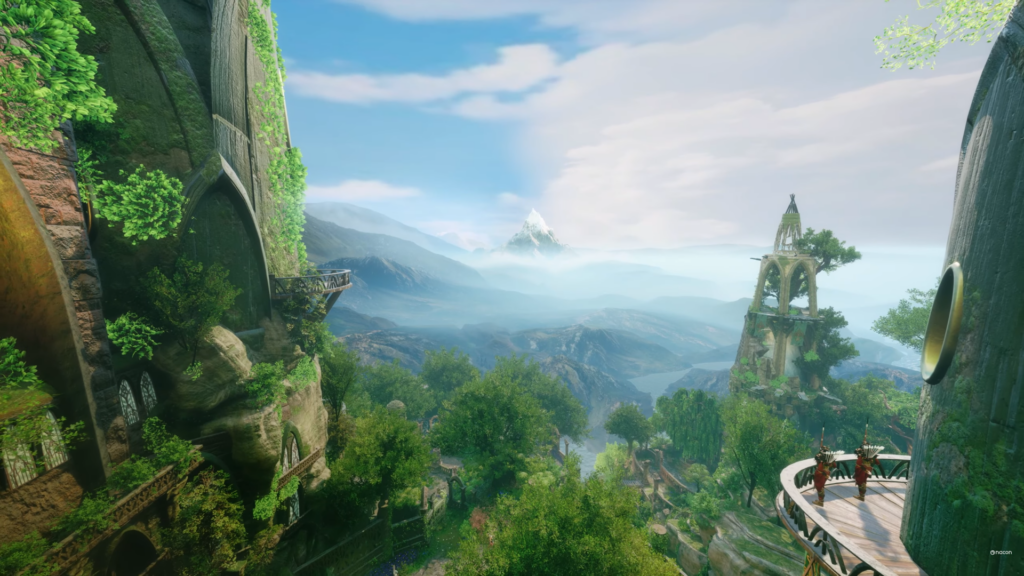 The team chose as their backdrop the period of time between Bilbo's escape from the goblins in The Hobbit, and when the fellowship enters the Mines of Moria in The Lord of the Rings. What happened with Sméagol/Gollum in those years? The books tell us a few tidbits of information, for example through Gandalf's exposition and in the Appendices – this game connects those dots into a coherent story. The dual (dueling?) personalities are at the forefront in this game's morality system, with many opportunities to choose different actions and responses based on your preference for whether you feel like Slinker or Stinker (Sam's words) at the time. These choices affect the game play significantly – we were told that one level is completely different based on your morality choices to that point.
I was impressed with the narrative department at Daedalic, represented in this session by Damiri Knapheide. It's a tough job with many people watching carefully – complex rights issues around books (some usable, some not), movie and media representations, and a very particular fan-base. Damiri's passion and knowledge were obvious to me, and I definitely look forward to having more opportunities to chat with him informally in the future if the opportunity arises. Even in the brief hour I had to wander in their game, there were scores of subtle background nods to the wider corpus, and backstories for prominent lore figures that were alive at this time.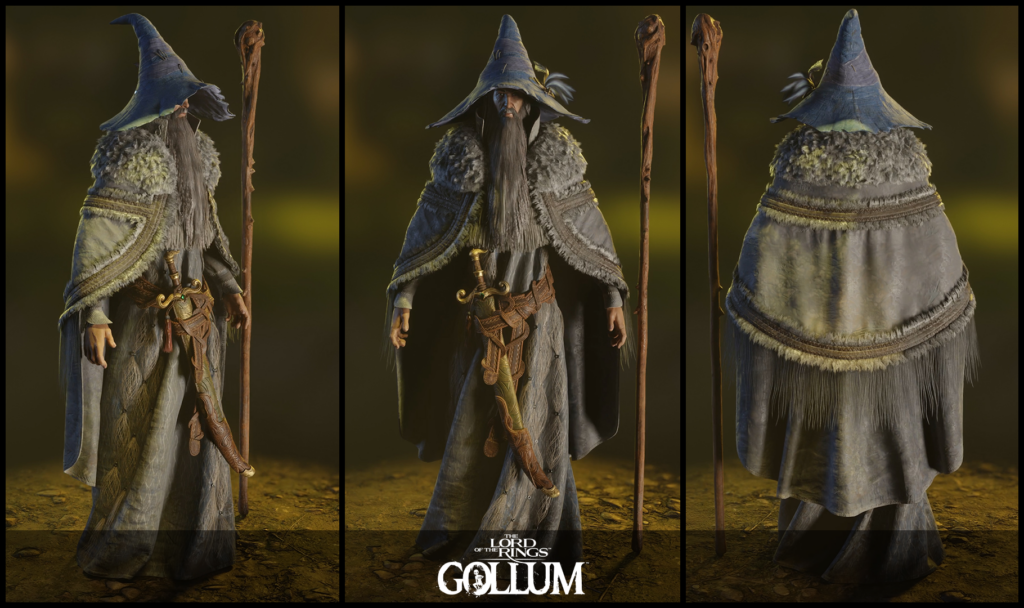 With an estimated 25-30 hour playthrough time and the chance to play multiple times making different choices in the morality system, I only had a glimpse of all the game has to offer. A challenge with a game of this nature, squeezed in between two fixed points in time and character development, the question remains – can Daedalic tell a good story, where your choices have an impact, and yet end with the same Sméagol/Gollum as we know him when he meets up with Frodo and Sam in the books? I look forward to finding out.
Be sure to check out the new story trailer on YouTube.
Here is today's press announcement for the game release:
The Lord of the Rings: Gollum™ Slinks Out of the Shadows on May 25th

The story-driven adventure across Middle-earth arrives this May for PC and consoles— Sméagol will swear it on the Precious!

Hamburg, Germany, March 23rd, 2023 – Today Daedalic Entertainment and NACON announced that their highly anticipated adventure game, The Lord of the Rings: Gollum, will release to PC, PlayStation, and Xbox on May 25th. A version for Nintendo Switch™ is planned for later this year. Based on the beloved The Lord of the Rings trilogy by J.R.R. Tolkien, the fantasy game takes players on an epic journey across Middle-earth, starring one of the lore's most compelling characters: Sméagol – *Gollum, Gollum*.

Check out fresh gameplay from Middle-earth, with insights from the developers inspired by the iconic lore. Daedalic and Nacon will stream a special showcase at 06:30 pm CET on Twitch today.

The Lord of the Rings: Gollum is a story-driven action adventure. Embark on a perilous journey as Gollum, chasing the only thing that is precious to you. Climb, leap, and sneak your way past dangers or into advantageous spots. Gollum is skillful and sly, and torn by a split personality. It is up to you to decide whether to yield to the darker side of Gollum or trust the kinder gentler hint of Sméagol.

Co-published by Daedalic Entertainment and NACON, The Lord of the Rings: Gollum is developed by a small team of passionate Tolkienites at Daedalic Entertainment in partnership with Middle-earth Enterprises. The game will release on PC, PlayStation®4, PlayStation®5, Xbox One, Xbox Series X|S, and Nintendo Switch™. A physical edition for consoles will also be available.

The new story trailer on Youtube.

###

About NACON

NACON is a company of the BIGBEN Group founded in 2019 to optimize its know-how through strong synergies in the video game market. By bringing together its 16 development studios, the publishing of AA video games, the design and distribution of premium gaming devices, NACON focuses 30 years of expertise at the service of players. This new unified business unit strengthens NACON's position in the market and enables it to innovate by creating new unique competitive advantages. https://corporate.nacongaming.com/

About Daedalic Entertainment

Daedalic Entertainment publishes and develops high-quality games for all platforms. The company has a diverse line-up of high-quality titles, including classic adventures, RPGs, and strategy and multiplayer games. With an international team of around 100 employees, Daedalic is currently developing a new line-up of innovative games across consoles, PC, and mobile platforms.

Based in Hamburg, Germany, Daedalic is one of Europe's most acclaimed publishers and developers. With a total of 32 awards in the German Developers Award (including multiple accolades for 'Studio of the Year') and 12 German Computer Game Awards for genre-defining games such as Deponia, Edna & Harvey, Silence, Shadow Tactics: Blades of the Shogun, Ken Follett's The Pillars of the Earth, The Long Journey Home, and State of Mind, Daedalic is a record holder for the two most prestigious game awards in Germany. Recent publishing hits include Barotrauma, Unrailed!, Iratus: Lord of the Dead, Partisans 1941 and more.

Daedalic is currently developing The Lord of the Rings – Gollum. The story-driven adventure tells the story of Gollum from a perspective never witnessed before in any storytelling media, all the while staying faithful to the legendary books of J.R.R. Tolkien.

About Middle-earth Enterprises

Middle-earth created by J.R.R. Tolkien is the definitive, deepest, richest and most beloved fantasy world of our time. As its stewards and custodians, our goal is to consistently deliver a wealth of great content in both new, and known formats; to ensure Middle-earth's rightful place as the world's leading fantasy IP and brand, forever.

Inspired by our deep appreciation for the fictional world created by Professor Tolkien, we are dedicated to working with those providing highest quality products in accordance with best green business and sustainability practices, including fair trade, equality in the workplace, and a commitment to protect our earth, its wondrous beauty and the viability of every living creature. Middle-earth Enterprises has been producing and licensing films, merchandise, services, and live stage productions based upon The Lord of the Rings and The Hobbit books, for more than four decades. www.middleearth.com.