An exclusive sneak peek at some of the wild new playable cards in The Lord of the Rings x Magic: The Gathering holiday updates, courtesy of Wizards of the Coast. You've never seen Magic cards like these!
Announced at MagicCon Vegas this weekend, the hugely successful MTGxLOTR is getting a new creative expansion including these new borderless poster art cards. These playable cards include all the necessary details, from the cost at the top right to the effect description hand written. These new cards will be available randomly in the new Holiday Collector Packs.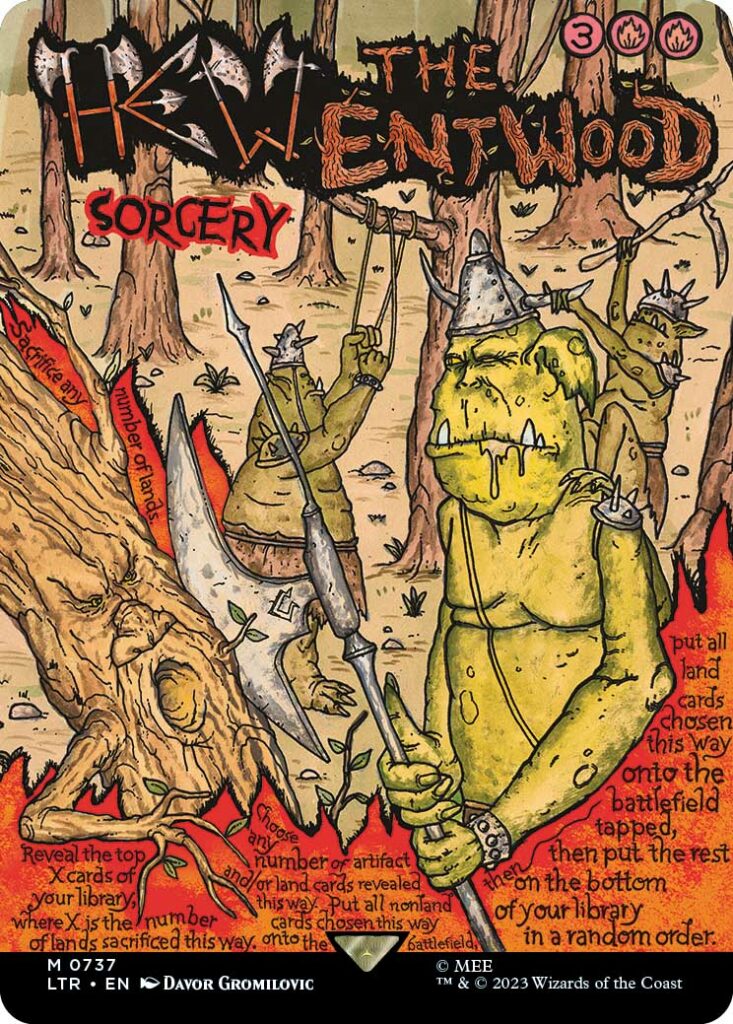 We got the opportunity to ask art directors from Magic: The Gathering, Sarah Wassell and MTG Hall of Famer Mike Turian, about these new wild designs.
What inspired this path of creativity in the cards?
Sarah Wassell – "The LOTR poster art style is specific to a style of band poster that emerged during the counter culture movement in the US in the 1960s (Seymour Chwast, Pushpin Studios, etc etc. There was a three book LOTR set published with amazing cover art by Barbara Remington that was a cult hit on US college campuses in the 1960s. This surge of interest fed directly into cultural moments with stadium rock bands referencing Tolkien in their lyrics in the 1970s. It's incredible, the far-reaching effect of LOTR on fantasy and art and music, and we loved taking the space to honor one of the more surprising areas of Tolkien fandom through these "band posters." And we love the chance to turn Magic cards with all their rule and mechanics into full poster art—it's such a mind-bending way to approach a format that is so rigid that the elements can disappear through familiarity. "
These look unlike any other MTGxLOTR cards so far. Are they part of a broader artistic trends you are seeing come up?
Wassell – "Hopefully, the broad trend is that we continue to surprise and delight fans! Our goal for Magic art is to always work from a place of passion for the storytelling and characters and find new ways to visually express the lore of the set through connections to pop culture and all kinds of unexpected, nostalgic, or beloved ways of depicting the Magic sets we love so much."
What has been the biggest surprise so far since initial release of LOTR?
Mike Turian – "The biggest surprise for me is just how the 1 of 1 Ring took on a life of its own. When we were making the card, that was always the vision behind doing a singular card to celebrate Magic and The Lord of the Rings coming together, we wanted to create something that would capture the imagination of fans and bring a piece of the novel to life. Still though, to see how it really did take off was something spectacular. And then, to actually have it pulled out of a pack, and ultimately end up in the hands of a superstar celebrity musician who loves playing Magic, I can't imagine a better ending to that story!"
How do you find such creative artists?
Wassell – "We try to stay engaged in what is popular and exciting with fan art and pop art. We research art history and then approach our searches from current working artists who are inspired by exciting moments in art's past. Mostly, we try to start from the source material of our internal world building team and game designers to amplify the exciting moments in a Magic set through the art that excites and inspires all of us in our day-to-day online and IRL journeys."
Release Date
The new packs for The Lord of the Rings: Tales of Middle-earth Holiday Edition release November 3. Look for pre-orders through your favorite local game store.