Please join us Friday, October 13th at 7:30pm as we bring back our annual NYC gathering of fans! Once again, we're delighted to be teaming up with our friends at Sideshow.com to bring you a fun night of drinks, food, prizes, and geekery! Details and the link to buy tickets below.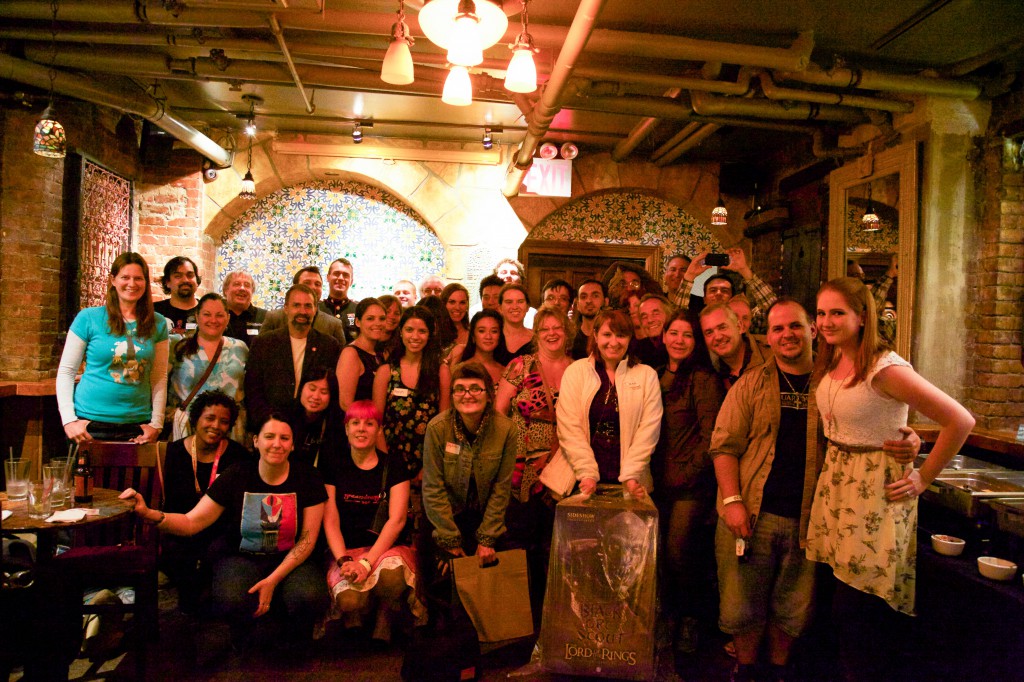 We're back – time to party in the Big Apple during New York Comic-Con!
We'll be back at our favourite venue, the Joyce Public House (formerly Tir na Nog) in Times Square (W 39th St). The party will be on FRIDAY 13th (eek!) October, 7.30-10.30pm. (All welcome – no NYCC pass required to attend.)
As we all know, costs of everything have gone up, so we're sorry to say our party tickets have, too! But we've managed to keep them down to just $40, which includes your first drink, finger food, and two tickets for the raffle which will be drawn on the night. PLUS every party goer will receive a 'party favour' from our friends at Shire Post Mint, to take home with them; AND you can get $25 back in SIDESHOW.COM REWARDS if you set up a Sideshow account!
You can purchase more raffle tickets if you'd like – either here online, or at the party. Check out some of the amazing prizes, listed below!
You never know who may show up to one of our events; we hope to see YOU there! Numbers are strictly limited; grab your tickets now!
Questions? Contact greendragon@theonering.net
Raffle items include… but not all are listed…
Tickets to 'The Lord of the Rings: The Two Towers' screening with live orchestra, at Radio City (Feb 2024)
Hot Toys Mandalorian and Child 1:6 Scale Figure Set
Lots of Middle-earth goodies from New Zealand Post
Sideshow The Dude Exclusive 1:6 Figure
Pokemon Poke Ball Replicas
Beautiful Middle-earth items from Scottish designers Oscha
Hot Toys Ahsoka Tano 1:6 Clone Wars
Sideshow The Child – Life-Size Figure
Octunnumi Prologue Custodian Book
Hot Toys Knightmare Batman & Superman 1:6 Set
Hot Toys Stan Lee Thor Ragnarok 1:6
And more…!
Grab your tickets now – see you there!