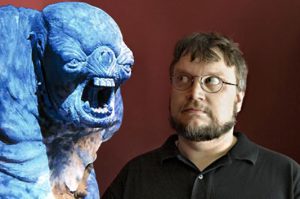 When Amazon Studios first announced their big production deal last November for a Lord of the Rings television series, there was just one thing missing, a big name attached to the project. There was no Producer, Showrunner or even a Writer or team of Writers to indicate the direction these stories might take and give confidence to fans that Middle-earth would be in good hands. 
It has been confirmed that the Guillermo Del Toro has signed on with Amazon Studios, in conjunction with his Tequila Gang production company, to Executive Produce and write this iteration of Middle-earth. He brings with him his co-writer, Chuck Hogan from The Strain. Del Toro's long time manager, Gary Ungar says that they have already begun identifying and sifting through possible stories that exist within the Appendices, separating out those that are more fleshed out in other Tolkien properties. Because the deal with the Tolkien Estate and Trust is still in flux, they are currently only looking at storylines they know won't be a legal issue so they can get down to writing.  
During that time waiting for The Hobbit project to finally get going, Guillermo Del Toro spent nearly two years breaking down The Hobbit and working with pre-production designs for the story he was helping to craft. His visual style and ability to create wild and very unique looks was one of the reasons fans came to really anticipate Del Toro's take on Middle-earth. We wanted to see what he would do with the Elves and Dwarves and even Men, and we especially wanted to see what he would have come up with for all the monsters. When he finally had to leave the project because it was dragging on too long waiting for a green light, fans felt a sense of loss and mourned The Hobbit that could have been. 
This is why Del Toro is perfect for this project. He already has a deep knowledge of the source material, including what can and can not be included legally, and he's got designs that never got the see the light of day. Because Peter Jackson and WETA are not going to be involved in the Amazon Studios production, there is little reason to maintain strict adherence to the design motifs put in place for the various races. The only design features required are within Tolkien's books, and beyond that, Del Toro will get to finally let loose with his own, distinct look and feel with very little constraint. What will his Numenor look like? Will we see a Northern Kingdom or meet a young Aragorn, as Thorongil, as he journey's about Middle-earth learning the skills he will later need to become King?  
Amazon has already announced that it will be developing a Lord of the Rings series set before the events of the original films. The company reportedly spent $250 million to acquire the rights alone and, according to that same report, marketing and productions costs for two seasons could raise the investment to $500 million. It is still unclear if these stories will be told in a series of anthology like episodes or story arcs, or if there will be a much wider, more epic scope to the narrative. 
Amazon Studios will produce the series in cooperation with the Tolkien Estate and Trust, book publishers HarperCollins, and New Line Cinema.