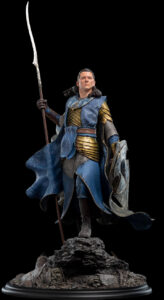 Our friends at Weta Workshop have been very busy since the start of 2023 with several new collectible items, both big and small, coming up for release. Today we're going to talk about the collectibles coming from the 1:6th line of statues in both the limited and classic series line.
As you are aware the Last Alliance sequence has been getting some love with the amazing Sauron and Elendil collectible that is available for fans to purchase. Now we can add the fantastic-looking Gil-Galad collectible to the list of must have LOTR collectibles.
Weta has announced that Collectors can place their pre-order for Gil-Galad right now till July 5th at 2 pm PDT. This collectible of Gil-Galad, like many other items from Weta, will be a timed pre-order. You can pre-order this awesome-looking Elf for $699 with an estimated shipping date of quarter one of 2024.
If you're a fan of the classic series of statues then you have two great options to place a pre-order for. As long time collectors would be aware, the classic series are 1:6 statues, but they're open editions, so these will be available for a little longer so fans can make sure they have their funds ready.
The two new additions both come from the Amon-Hen sequence of The Lord of the Rings: The Fellowship of the Ring. The first is a beautiful Frodo Baggins statue, where he is standing, hand open with the The One Ring lying on it, before he gets in the boat to leave The Fellowship. You can snag Frodo right now for $349 with an expected release date of 2024.
The other classic series collectible also from the same sequence in the film is Lurtz in that menacing walk we see him doing. Lurtz is a little more expensive than Frodo at $399 and has a release date of the end of this year.
Continue reading "Collecting The Precious – Weta Workshop Gil-Galad and more Pre-Orders"