The Bodleian Library in Oxford has an exceptional exhibition coming up later this year, which fans will no doubt travel far and wide to see. Tolkien: Maker of Middle-earth (June 1 – October 28) will display an extraordinary collection of illustrations, manuscripts, letters, personal belongings and more, giving a unique insight into J.R.R. Tolkien and his works. This 'once in a lifetime' exhibition is not to be missed – and thanks to our friends at the Bodleian, TheOneRing.net can reveal exclusively that tickets will be available from 2pm UK time tomorrow, Tuesday 13th February. Here's what the Bodleian tell us:
The Bodleian Library is pleased to announce that free tickets for the upcoming, once in a lifetime exhibition, Tolkien: Maker of Middle-earth, will be available for booking from 2pm UK time on Tuesday 13 February 2018. We know that some visitors will want to travel some distance to this exhibition and want to help them ensure their entry in advance.
To book your tickets, visit the official Tolkien: Maker of Middle-earth website at https://tolkien.bodleian.ox.ac.uk/about-the-exhibition where they will be available from 

2pm

 on 

Tuesday 13 February 2018

.

Tolkien: Maker of Middle-earth explores Tolkien's amazing legacy from his genius as an artist, poet, linguist, and author to his academic career and private life. The exhibition takes you on a journey through Tolkien's famous works, The Hobbit and The Lord of The Rings, displaying an array of draft manuscripts, striking illustrations and maps drawn for his publications.

Visitors will discover Tolkien's early abstract paintings from The Book of Ishness, the touching tales he wrote for his children, rare objects that belonged to Tolkien, exclusive fan mail, and private letters.

The exhibition runs 1 June to 28 October 2018 at the Bodleian Libraries, University of Oxford.
If you've been thinking about making a pilgrimage to Oxford, this summer/autumn is the time to go; and be sure to grab those tickets tomorrow! Check out the exhibition website, here.
Thanks to the Bodleian Library for allowing us to make this announcement.
Posted in Calendar, Events, Exhibits, Headlines, Hobbit Book, J.R.R. Tolkien, Lord of the Rings, LotR Books, Other Tolkien books, The Hobbit, Tolkien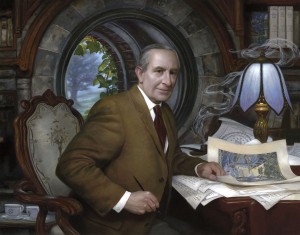 Help celebrate and mark J.R.R. Tolkien's twelfty-sixth (126th) birthday by joining fans all over the world in The Tolkien Society's annual Birthday Toast.
Tolkein was born on this day in 1892 in Bloemfontein, South Africa. On this day, you might read a favorite passage or two from Tolkien's writings or you can raise a glass to our beloved author and creator of Middle-earth at 9pm (your local time). The toast is simply to: "The Professor!"
Share your toast on Twitter or Facebook using the hashtag #TolkienBirthdayToast. However you celebrate, we hope you join TORn as we wholeheartedly wish a happy birthday to "The Professor," who's life's work has come to mean so much to all of us. Happy birthday, J.R.R. Tolkien!
Posted in Fans, J.R.R. Tolkien, Tolkien, Tolkien Toast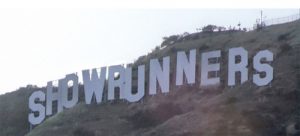 The recent, completely Unexpected news of new Middle-earth stories coming from Amazon Studios has left Tolkien fandom in a bit of a Party mood. There haven't been many details about which stories will be told, what the format will be, and who will actually be designing and managing this whole process. Do these Middle-earth stories need a Showrunner, or has Amazon Studios just not announced that they already have someone on the team?
Amazon is purported to have paid between $200 to $250 million just for the rights to the story before any costs for development, talent and production are taken into account. This is considered somewhat risky since there is no concept and no creative leader at the helm, and no characters or story to build upon. The only news to come out since the announcement is that Sir Ian McKellen has said he would be happy to don the Grey, pointy hat again.
We humbly submit our Top Ten list, in alphabetical order, of genre writers and Showrunners for consideration by Amazon Studios, and you, the fans. Do you agree or disagree? Did we miss anyone? Sound off in the discussion section below.  (more…)
Posted in Amazon Studios, Amazon TV series, Characters, Fellowship of the Ring, Hobbit Book, J.R.R. Tolkien, Lord of the Rings, LotR Books, Other Tolkien books, Return of the King, Studios, Television, The Hobbit, The Two Towers, Tolkien
Our friend, TheHutt, from the TORn discussion forums recently shared some interesting information from German site IGN.com: Amazon has revealed to them that shooting on the new Middle-earth series will begin in 2019, with the goal to begin airing the first episodes in 2020. The  2020 goal is designed to fill the void Game of Thrones will leave after the final season airs, likely now to be in 2019.
Posted in J.R.R. Tolkien, Lord of the Rings, Studios, Television, The Hobbit, Tolkien, Warner Bros.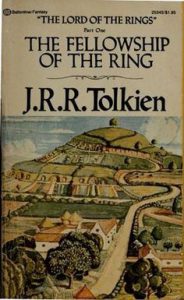 In a fascinating article, TORn staffer and author Kristin Thompson gives us some invaluable insight into some of the legal wranglings which may have led to this new The Lord of the Rings television series deal:
The announcement that Amazon will be producing a multi-season television series based on The Lord of the Rings has caused much speculation and not a little confusion. One common assumption seems to be that the television rights to the two hobbit novels were sold to United Artists in 1969, when it obtained the production and distribution rights to make film adaptations. (more…)
Posted in Amazon TV series, Fellowship of the Ring, Hobbit Book, J.R.R. Tolkien, Lord of the Rings, LotR Books, New Line Cinema, Return of the King, Studios, Television, The Hobbit, The Two Towers, Tolkien, Tolkien Estate, Warner Bros.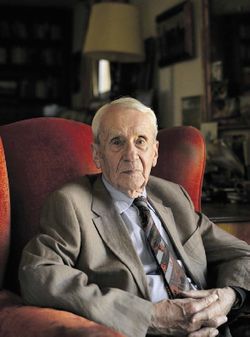 It turns out a "Lord of the Rings" TV series isn't the biggest Tolkien news of the week or the month or the year.
Christopher Tolkien, son and literary heir of J.R.R. Tolkien, resigned from the Tolkien Estate. And his departure changes everything.
Christopher is 93 and just this year edited and published one of his father's works "Beren and Luthien," which as even casual Tolkienites know, refers to his parents with the names of those characters adorning their tombstones.
In the preface of the book he writes, "this is (preemptively) my last book in the long series of editions of my father's writings." It seems he was planning to retire already. Personally, learning the greatest Tolkien scholar, and a man who has honored his father in an exemplary way, has left the care of his father's legacy to others feels like reading the end of LOTR where Galadriel, Elrond and the other great elves leave Middle-earth. There is a keen sadness, but admiration and beauty as well.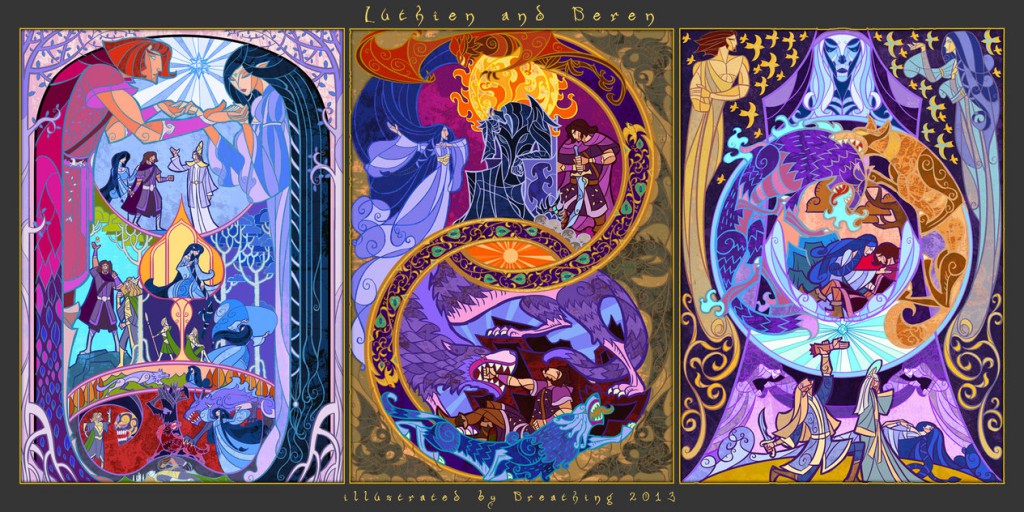 But even if you aren't sentimental, he deserves any Tolkien fan's deep respect. But it bears repeating, this changes everything.
The news reached me by friend Michael Martinez via Twitter on his blog. Martinez has an exceptional mind for Tolkien.
He understood perfectly that Christopher R. Tolkien's departure signals the end of an era.
"With Christopher's departure as an officer of the Tolkien Estate (which was incorporated in 2011), the long-awaited "rights frenzy" for Tolkien properties may soon begin," he wrote.
Yes, and it seemingly has already happened. This is a definite piece of the puzzle of the recent news of the Amazon Video deal. I had heard through rock solid, but not reportable sources several years ago that other members of the estate were much more willing to negotiate J.R.R. Tolkien's properties while Christopher was far more interested in preserving legacy than money.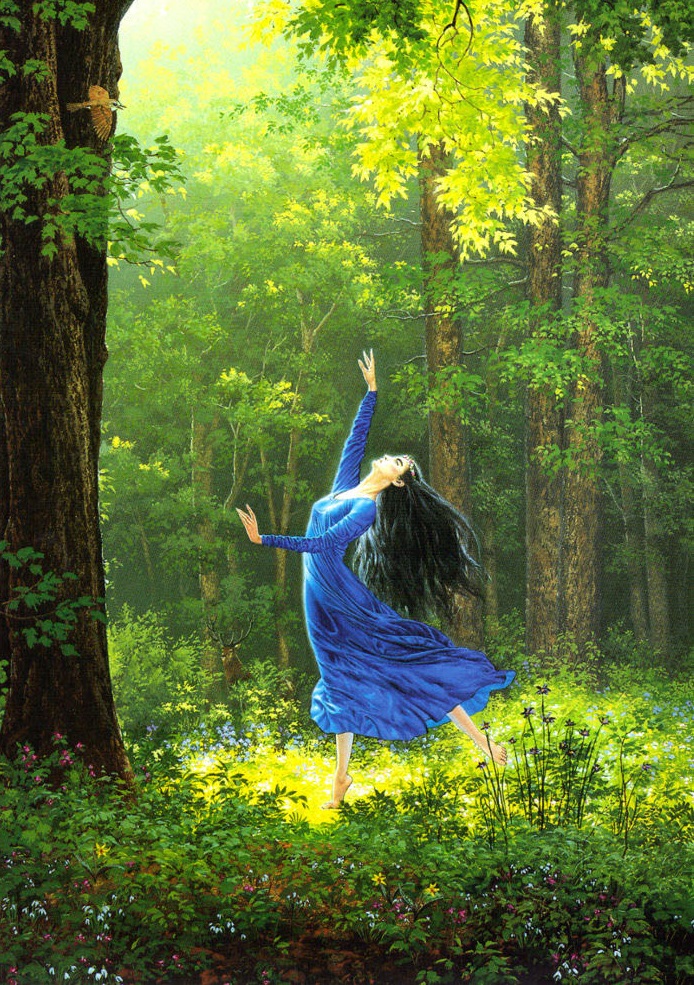 The settlement between Warner Bros. and the Tolkien Estate settled an $80 million lawsuit July 3. Part of the statement the studio released at the time was unusually upbeat for an entity that just paid out big money:
"The parties are pleased that they have amicably resolved this matter and look forward to working together in the future."
The future mentioned in that statement is this week and beyond, and it was obviously in the works then. According to a U.K. government website, Christopher resigned on Aug. 31. One would expect formal resignations of this nature take time to manage legally, so it also was in the works for some time I suspect. What I wouldn't give to have been in the room for that passing of the torch.
So in quick fashion, after the seismic change, the estate has sold the television rights for book "The Lord of the Rings." Warners paid the court dispute so there would be a relationship moving forward and Amazon's Jeff Bezos rewarded both entities handsomely.
Another important thing to note here, and another piece of the puzzle, is that the television rights to "The Hobbit" and "Lord of the Rings" were NOT sold when J.R.R. Tolkien sold the movie rights in 1969. Those rights were for motion pictures. TORn staffer and author Kristin Thompson informed our staff about this. She has first-hand documentation and as author of "The Frodo Franchise," knows this stuff as well as anybody. And obviously you can and should buy her book on Amazon.com. I believe another TORn news article is expected on just this point.
This explains why the estate was so involved in the Amazon deal; they were selling something. It also explains why Middle-earth Enterprises was absent from the latest news. (Correction: This originally said Tolkien Enterprises, a name previously used that is not correct. The story has been updated.)
But the bigger ramifications of all this are far greater than a multi-season Amazon series. The new leadership of the estate seem much more willing to deal Tolkien properties than Christopher was and this confirms my well placed sources.
This opens up Tolkien and Middle-earth as possible franchises in the same way that Harry Potter's world is a place you can visit at Universal Studios or that Disney will soon have a Star Wars area. There are few properties in the world that can be talked about in the same way as Middle-earth. Warner Bros. see the value and so does Amazon.
That doesn't mean the Tolkien Estate will move toward making the rights to "Beren And Luthien" available but it does mean my wish to produce "The Silmarillion" as HBO series is slightly less impossible than it was before. That is what has changed really. Things once impossible are now possible.
The estate may elect to only allow more content based solely on "The Hobbit" and "The Lord of the Rings." Or they may carefully cultivate the entire library.
Because of the depth of J.R.R. Tolkien's legendarium, there is a virtually endless fountain of material. As Martinez points out in his blog, what will be produced is essentially fan fiction. As Disney has expanded the Galaxy far-far away, and HBO is planning its growth of George R.R. Martin's Westeros world, so too could Amazon and Warner Bros expand Middle-earth.
Much of that possibility rests with the estate but just Appendix A in "The Lord of the Rings" offers a wealth of content. The imagination soars with possibilities.
This will no doubt anger many fans and delight many others, as the Amazon deal already has. Some don't want to see the compromise of the author's vision. Funny enough, this also seems to have a whole new batch of fans upset because they don't want Amazon's product to compromise Peter Jackson's vision of Tolkien's vision.
The officers of the Tolkien Estate still count among their numbers Tolkien's youngest child Priscilla Tolkien and other grandchildren in the family.
This is over-long already but a final word on Christopher Tolkien's departure. Here is a man who is a treasure, and who carries in his heart and mind the voice and essence of his father. The significance of his departure cannot be over stated.
I close with another poignant passage he wrote about his father in the preface of his final contribution to the Tolkien legacy, "Beren and Luthien."
"In a letter to me on the subject of my mother, written in the year after her death, which was also the year before his own, he wrote of his overwhelming sense of bereavement, and of his wish to have Luthien inscribed beneath her name on the grave. He returned in that letter … to the origin of the tale of Beren and Luthien in a small woodland glade filled with hemlock flowers near Roos in Yorkshire, where she danced; and he said: 'But the story has gone crooked, and I am left, and I cannot plead before the inexorable Mandos.'
Thank you Christopher Tolkien. We are going to miss you and your strength and determination to contribute to and preserve the legacy of your father.
Posted in Amazon TV series, Christopher Tolkien, Hobbit Movie, J.R.R. Tolkien, Lord of the Rings, LotR Movies, Studios, The Hobbit, Tolkien, Warner Bros.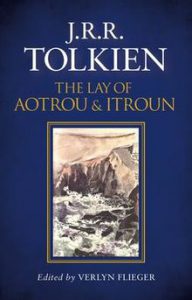 Fans who are waiting to hear further news about a possible Lord of the Rings television series can keep themselves busy for a while with a new publication of Tolkien's poem, The Lay of Aotrou and Itroun. Although this work was released by UK publishers Harper Collins last year, it is available today from American publishers Houghton Mifflin Harcourt. Here's what they tell us about the book:
Houghton Mifflin Harcourt is proud to announce the publication on November 7, 2017 of THE LAY OF AOTROU AND ITROUN by J.R.R. Tolkien, edited by Verlyn Flieger. Unavailable for more than 70 years, this early but important work is published for the first time with Tolkien's 'Corrigan' poems and other supporting material, including a prefatory note by Christopher Tolkien.
Set 'In Britain's land beyond the seas' during the Age of Chivalry, THE LAY OF AOTROU AND ITROUN tells of a childless Breton Lord and Lady (the 'Aotrou' and 'Itroun' of the title) and the tragedy that befalls them when Aotrou seeks to remedy their situation with the aid of a magic potion obtained from a corrigan, or malevolent fairy. When the potion succeeds and Itroun bears twins, the corrigan returns seeking her fee, and Aotrou is forced to choose between betraying his marriage and losing his life.
Coming from the darker side of J.R.R. Tolkien's imagination, THE LAY OF AOTROU AND ITROUN, together with the two shorter 'Corrigan' poems that lead up to it and which are also included, was the outcome of a comparatively short but intense period in Tolkien's life when he was deeply engaged with Celtic, and particularly Breton, myth and legend.
Originally written in 1930 and long out of print, this early but seminal work is an important addition to the non-Middle-earth portion of his canon and should be set alongside Tolkien's other retellings of myth and legend, The Legend of Sigurd and Gudrún, The Fall of Arthur and The Story of Kullervo. Like these works, it belongs to a small but important corpus of his ventures into 'real-world' mythologies, each of which in its own way would be a formative influence on his own legendarium.
We have FIVE copies to give away to lucky fans in the US! To enter, simply complete the entry form, and answer the following question:
Who is the editor of this new edition of The Lay of Aotrou and Itroun?
Complete the entry form by 5pm EST on Monday 13th November. [Enter Here] Five winners will then be chosen at random, and a copy of the latest Tolkien publication will be mailed to them. Good luck!  (Sorry, this competition is only available to fans living in the United States.)
For those who don't win, you can buy the book here; and it is also available as an e-book.
UPDATE: Many thanks to all who entered our competition. The winners have been notified by email, and their books are on the way to them!
Posted in Books, Books Publications, Christopher Tolkien, Contests, Events, J.R.R. Tolkien, Lord of the Rings, Merchandise, Other Tolkien books, Shop, Tolkien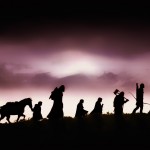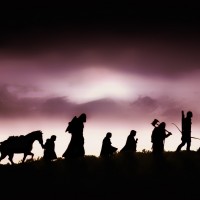 As is to be expected, the internet, our discussion forums, and comments to our story from yesterday are abuzz with the news broken by Variety magazine yesterday of talks between Warner Brothers and Amazon to make a series adaptation based on J.R.R. Tolkien's The Lord of the Rings. Since there are many outstanding questions, we thought we'd go back over some of the background related to the movie and television rights to The Lord of the Rings and The Hobbit, as well as relate some additional information also published yesterday at Deadline Hollywood.
Posted in Fellowship of the Ring, Hobbit Book, J.R.R. Tolkien, Lord of the Rings, LotR Books, Return of the King, Television, The Hobbit, The Two Towers, Tolkien, Tolkien Estate, Warner Bros.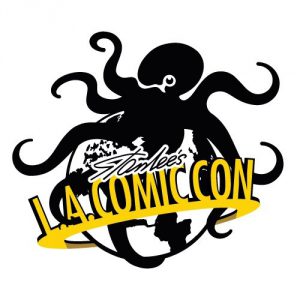 Join several staffers from TheOneRing.net next weekend for the last big TORn hosted event of the year. We will have a panel at Stan Lee's Los Angeles Comic Con on Saturday, October 28 at 10am, room 403A at the LA Convention Center. Our panel is titled "80 years in Middle-earth, why Tolkien is still so relevant" and will cover several of the themes Tolkien uses in his stories, and discuss some of the many tangible ways Middle-earth is still being brought to life. We have a sneak peak at the new Shadow of War game and some more casting rumors for the Tolkien Biopic in the works. And best of all, they've given us 75 minutes to talk, rather than the regular 50 minutes we normally get, so maybe a little Tolkien singalong is in order.
Tickets and schedule information can be found at the Convention website and you can let us know you are coming at our Facebook Event Page by RSVPing.
Posted in ComicCon, Conventions, Events, Fans, Gaming, J.R.R. Tolkien, Lord of the Rings, Meet Ups, Other Tolkien books, The Hobbit, The Legend of Sigurd and Gudrun, Tolkien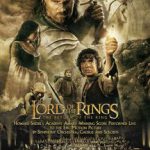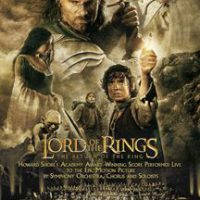 Updated 11/3/17 – From time-to-time you, the fans, email TORn about events of interest to other fans of J.R.R. Tolkien and/or Peter Jackson's Lord of the Rings and The Hobbit movies. As a service to our readers, we decided to created this new feature: a listing of upcoming events to keep everyone apprised of where they can hook-up and commiserate with other fans, learn a thing or two, or just plain enjoy the fandom that we've all come to know and love.  From Howard Shore concerts in Paris, to fan get-togethers in Kentucky and South Carolina, to exhibitions in Staffordshire, U.K., it's all listed here! The list will be updated periodically as past events drop off and future events are added. If you know of an upcoming event, please let us know either in the comments section of this story, or by emailing spymaster@theonering.net. – TORn, 'Together in Tolkien'
Posted in Concerts, Conventions, Director news, Events, Exhibits, Film Screenings, Hobbit Movie, Howard Shore, J.R.R. Tolkien, Lectures & Education, Lord of the Rings, LotR Movies, Meet Ups, Movie Fellowship of the Ring, Movie Return of the King, Other Events, Peter Jackson, Stage Productions, The Hobbit, The Hobbit: An Unexpected Journey, The Hobbit: The Battle of Five Armies, The Hobbit: The Battle of the Five Armies, Tolkien, Tolkien Toast, Uncategorized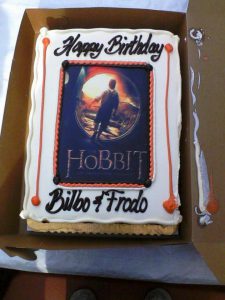 Come One, Come All, the Baggins Birthday Bash is coming in just 3 weeks, time to party like Hobbits, Dwarves, Elves and Men, and maybe the more well behaved Orcs.
We are moving back to Griffith Park, huzzah, and to the Mineral Wells location we've used the past 5 or 6 years before last year's jaunt to Long Beach. Directions can be found on our Facebook event page in the party description. The picnic will start at Noon, with activities wrapping up around 5pm so we can clean up and clear out before it gets too dark. Here are a few of the things to note:
Costumes welcome, but not required. There will be a contest, with all pomp and circumstance.
The Cake and Cupcake contest is back as well, Tolkien themed designs only, please.
Quotes contest – The Hobbit is 80 years old on September 21, so let's keep quotes to just The Hobbit, film or book in honor of the book that introduced Middle-earth to the World.
There may be a few games as well, such as Golfimbul, depending on how much yummy food and fellowship there is, or the temperatures. Actually, the weather may also impact the number of costumes or the viability of the Cakes. I'm sure some of you remember the great Cake meltdown a few years back.
Survival, on hot days, an umbrella or pop up tent work really well, so bring them, and chairs because the park benches don't move. On not so hot days, still bring the pop ups or at least the chairs.
Food, yes, this is a Potluck party, so bring food, at least 6 servings worth, but let's not forget cups, plates, napkins and flatware. If you have an ice chest, bring it. Whether it is personal sized, for your own beverages, or super big to help keep lots of water, soda or juice cold. Bottles are preferred because yellowjackets do seem to like picnics too.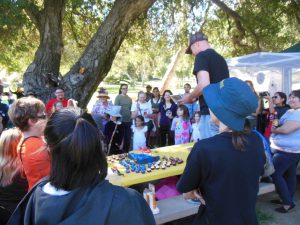 Please check out the Facebook event page (linked above) to RSVP your attendance and what you plan to bring, or you can RSVP to me at Garfeimao@TheOneRing.net just so we have an idea of what is being brought and where we need to fill in the gaps.
And yes, children are very welcome, bring the whole family.
Posted in Baggins Birthday Bash, Characters, Collectibles, Events, Fans, Fellowship of the Ring, Hobbit Book, Hobbit Movie, J.R.R. Tolkien, Lord of the Rings, LotR Books, LotR Movies, Meet Ups, Movie Fellowship of the Ring, Movie Return of the King, Movie The Two Towers, Other Events, Return of the King, The Hobbit, The Hobbit: An Unexpected Journey, The Hobbit: The Battle of the Five Armies, The Hobbit: The Desolation of Smaug, The Two Towers, Tolkien, WETA Cave, Weta Collectibles, WETA Workshop