Newsweek:  J.R.R. Tolkien – Celebrating the Professor's Greatest Creations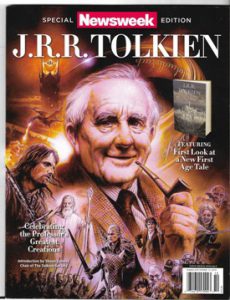 [Media Lab Publishing] is on newsstands and store check-out lanes now.
This is a beautiful, high-quality, glossy 100-page issue full of articles, information on both books and films, and many full-page photos.  A wonderful collectible opening with an introduction by Shaun Gunner, Chair of the Tolkien Society.
Posted in Books Publications, Christopher Tolkien, Collectibles, J.R.R. Tolkien, Lord of the Rings, LotR Books, Merchandise, Other Merchandise, Other Tolkien books, Silmarillion, The Hobbit, Tolkien