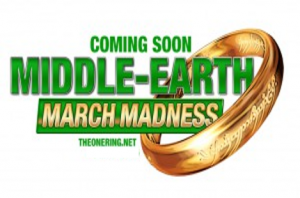 Spring is in the air, and it's finally that time of year when fans get to vote on their favorite Tolkien characters. Yes, Middle-earth March Madness is back for 2017! If you are new to TheOneRing.net, Middle-earth March Madness is our adaptation on the popular NCAA Basketball tournament that takes place every March/April in the United States. It's our chance to have some fun matching up middle-earth power players against each other. Past winners include Samwise Gamgee, Gandalf,  who won in both 2013 and 2015, Thranduil, and last year's winner Galadriel, who defeated the mighty Morgoth in the final round.
To mix things up a bit and give some other, very deserving characters a chance, the past winners mentioned above will sit this year out in the esteemed 'Champion's Hall of Fame.' As for this year's brackets, the four divisions will pit characters against each other based on the following criteria:
Movies Only – characters who appeared only in Peter Jackson's The Lord of the Rings and/or The Hobbit movies
Books Only – characters who didn't make the final cut for the movies
Movies and Books – characters who graced both the written page and the silver screen
Wider Mythos – Middle-earth characters not in the movies from Tolkien's works outside of The Lord of the Rings and The Hobbit.
Our staff are sorting out the field of 64 initial combatants now, and we'll be posting the first bracket and polls this Monday, March 20. Stay tuned to the front-page of TORn for the announcement to start voting, and follow along on Twitter and FB with #middleearthmarchmadness @theoneringnet