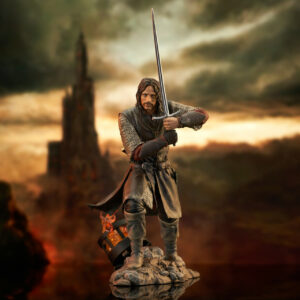 Our friends at DST have been very busy themselves with new items and new lines of items for Middle-earth fans.
The first two items we saw on display last year during Comic-Con, and they're part of the Deluxe Action Figure Set line. These superb-looking figures of Boromir and Lurtz are now available to purchase individually at $24.99 or as a set at $49.98. As I've said before if you loved your Toy Biz line these are great additions to that scale. I am very much looking forward to adding these to my collection.
DST are also adding a larger-scale Diorama line of statue collectibles. The first in this line is Aragorn as we see him at Helm's Deep. Aragorn with sword will be roughly 12 inches tall and will be available with a price tag of $59. You can expect to see him towards the end of 2023.
Continue reading "Collecting The Precious – Diamond Select Toys Pre-Orders"