It's an exciting week for fans of the Professor! The biopic TOLKIEN will be released on May 10th, with a Fathom Event live screening followed by a Q&A lead by Stephen Colbert tonight, and a World Premiere Live Stream tomorrow night! We here at TORn are very excited for this movie; those staffers who have already seen it have loved it, as you'll know from Quickbeam's review. Last week, two staffers were lucky enough to join director Dome Karukoski in New York. ImladrisRose wrote this fascinating article about the visit; read on to find out more about the inspiration behind TOLKIEN.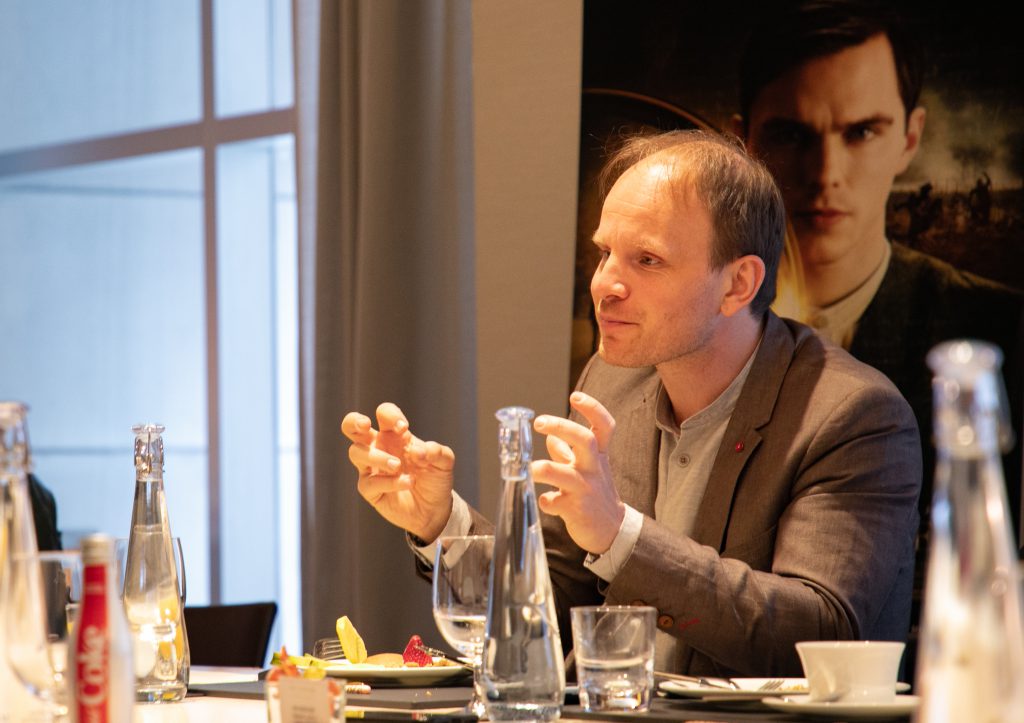 On May 3rd, TheOneRing.Net was granted access to an exclusive press event with acclaimed Finnish Director, Dome Karukoski, as a part of the press tour for his upcoming film Tolkien. The press event was covered by TORn Staffer Ashlee Rose Scott (ImladrisRose) and TORn Original Staff Contributor John Tedeschi (Thorongil).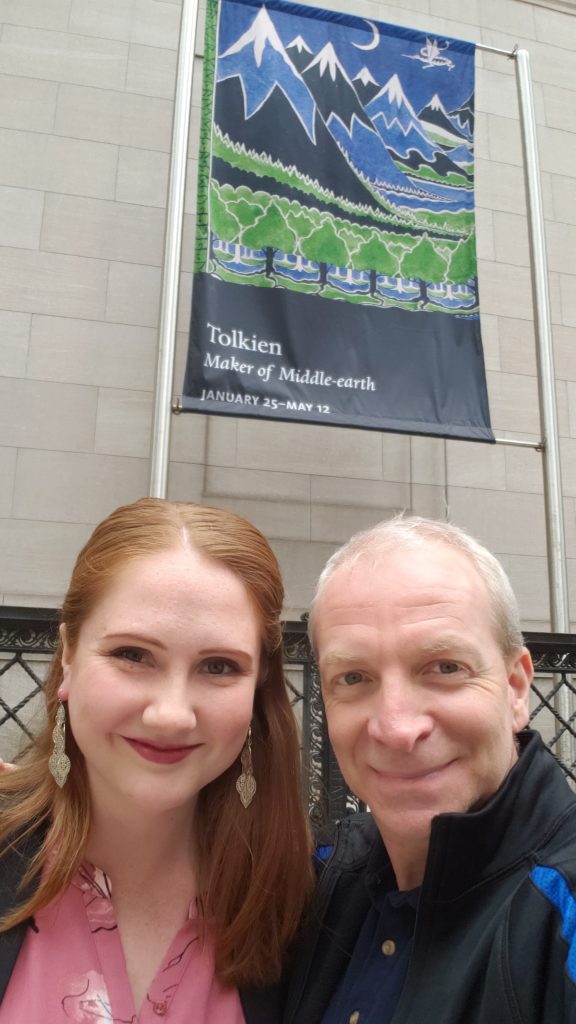 Fox Searchlight has this to say about the film: "TOLKIEN explores the formative years of the renowned author's life as he finds friendship, courage and inspiration among a fellow group of writers and artists at school. Their brotherhood strengthens as they grow up and weather love and loss together, including Tolkien's tumultuous courtship of his beloved Edith Bratt, until the outbreak of the First World War which threatens to tear their fellowship apart. All of these experiences would later inspire Tolkien to write his famous Middle-earth novels."
Our morning with Dome began with a private tour of "Tolkien: Maker of Middle Earth" at the Morgan Library and Museum in Manhattan. The show was originally conceived and created in Oxford, where they hold the majority of the Tolkien archive. The Oxford exhibit had about 230 pieces, while the New York one has 115. There are a few pieces from private collections that were not on display at the Oxford location. As the museum's Chief Curator, John McQuillen, was giving the tour, Dome was soaking up every aspect of the exhibit, as were we.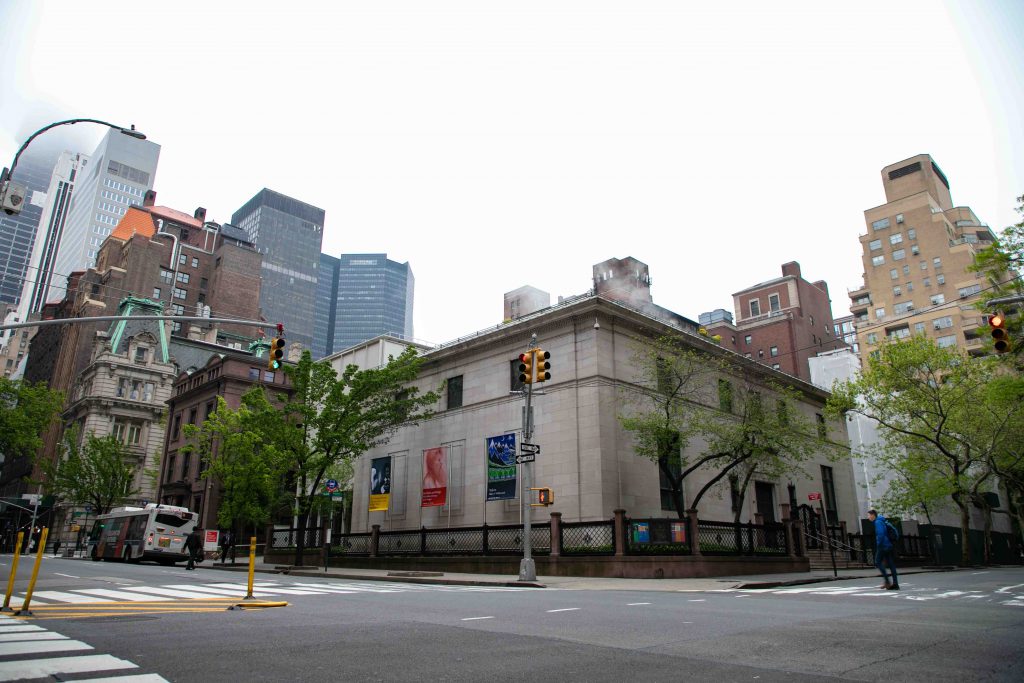 McQuillen would explain the back story of each piece on display and Dome would interject tidbits from his journey through Middle-earth and the production of Tolkien.
Floor to ceiling enlargements of some of Tolkien's watercolors were breathtaking, simply mesmerizing. I could have curled up in a chair and stared at them for hours. Dome explained while standing beneath Tolkien's illustration 'Eeriness', "In the film, our costume designer had the idea to use the color palettes of some of Tolkien's watercolors to design Edith's dresses. She would have the idea for the look of the gown, and then pull the colors together based on some of Tolkien's paintings. For example, Lily wore a colored dress inspired by the rooftops of Hobbiton."

That type of attention to detail was instrumental for the filmmaker to pull Tolkien's world and "visions" together. Dome went on to say, "Lord of the Rings came much later into his mind, which is striking because usually that's the first thing that people read. With our film, we really focused on the elements of how he was forming his writings at that [early] time in his life. At that time, he was building glimpses of The Hobbit and The Silmarillion. The film depicts more of his imagination depicting those works, instead of The Lord of the Rings."
The charts and timelines written in Tolkien's handwriting, of where every character in a story was on any given day, were an awe inspiring representation of the enormous care that the Professor placed in getting everything in his world, in his Middle–earth, perfect. There was a ledger showing how many hours Tolkien worked and how many kisses he was owed by his love, Edith Bratt. Tolkien was easily distracted in his college years: by rugby, by theatre, by friends, by Edith.
"What a surprise," Dome chuckled at McQuillen's description of Tolkien's
distractedness. "Tolkien turned distraction into triumph." The ledger also showed an early version of the Tolkien monogram. "One of the things that inspired me and helped me see how he really used elements of his actual life in his mythologies was that he was bitten by a tarantula as a small boy. He could have died but he was lucky, he went home and the housemaids sucked the poison out of him.
"To me, this shows me Frodo and Shelob. He would use these small elements of his own life, not as direct inspirations, but as a jumping off point in his writing, and it had an overall influence on him."
McQuillen explained that The Silmarillion really began when Tolkien was a young boy. He and his brother created what they called the "nonsense fairy language", like most kids who create their own secret language; but for Tolkien, this became something very serious. It was in his undergrad years, and on the battlefields during World War I, that he started having these ideas of Middle–earth; bringing that nonsense language that he and his brother created, and turning it into what ultimately became Elvish. Tolkien wanted The Silmarillion to provide a kind of mythology for England, that he felt was lost during the Norman conquest; that's really where Middle–earth began, as a mythological past for England.
"Tolkien's art was very dark when he was young. In terms of my research, I would look at even the temperament to which the lines were drawn. And those early works were dark. There is a darkness and
almost a lack of control, where in his later works you see there is a light to them and you can see that emotional control. The pain of his youth was apparent in his early pieces, that was my biggest takeaway." Dome spoke of his extensive time researching the Professor, down to those details of brush or pencil stroke style.
Following the hour long tour of the exhibit, we went to the Langham Hotel, where we had breakfast, followed by a round table discussion. Dome was extremely gracious with his time and was chatting with us before, during and after all of the events of the day. His love of Tolkien's work and the deep respect he has for the Professor is apparent in the way he speaks about him. He is of course a filmmaker, and so made choices that he believed would do the film the most justice, but always while still being true to the spirit of Tolkien himself.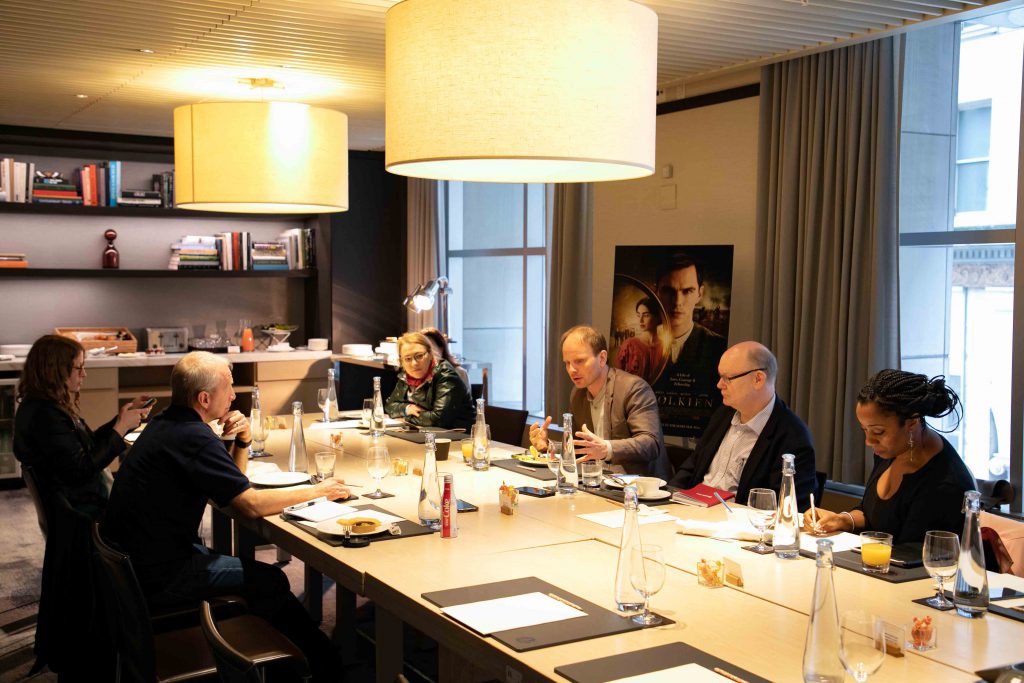 One of the biggest topics of the group discussion was the representation of a strong female character ("Edith") in the film, and the other female characters in Tolkien's works. Karukoski had this to say:
"Almost all of his stories and his letters, he barely talks about his mother, which is understandable with her loss being such a tragic experience for him. He also doesn't really talk much about Edith other than a very nice letter after her death, to his son, referring to Edith as his Luthien. So we talked a lot about how do we have layers to Edith, when we don't know that much about her. How do we have this female character layered and not just as a supporting character, since we don't know those actual layers that made her who she would have been. What was striking about our research was how much of a partner she was; she wasn't just a housewife. I think that they worked a lot together. I think between their bond as orphans, and her being older than he, she was viewed as having an upper status towards him. which I believe influenced and carried over into his writing of strong female characters.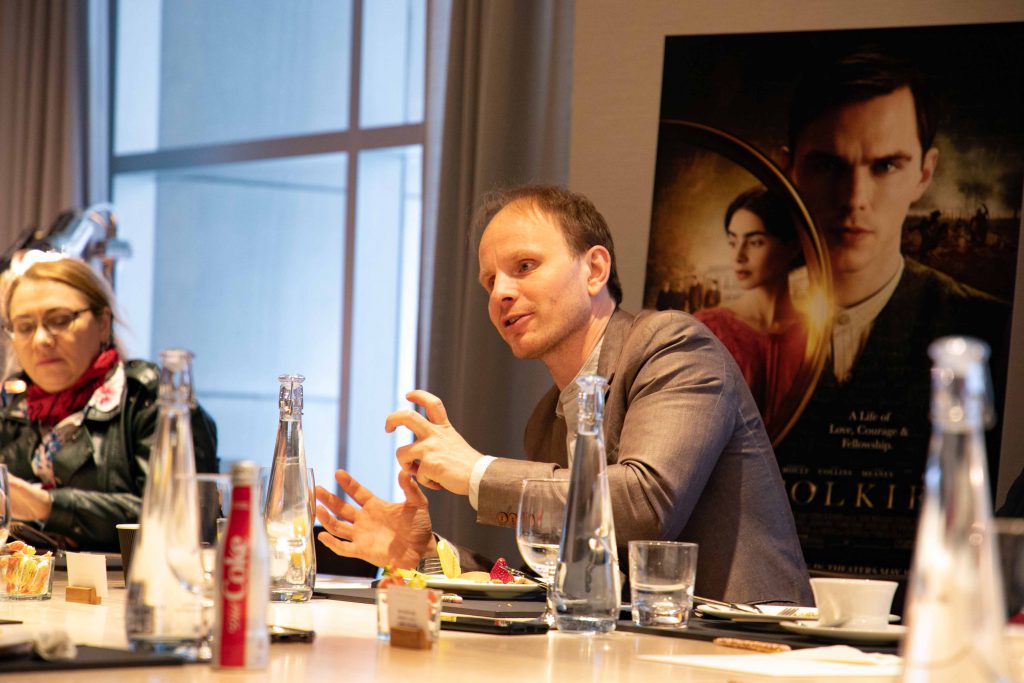 "If you look at the mythologies, it's a very patriarchal era. However, you have characters such as Eowyn who kills the Witch King, which no man can do, and you have Galadriel, who is possibly the strongest of all the elven characters. From that, you can see that he viewed her (Edith) as very strong and made his female characters very strong in her likeness. He viewed Edith as the backbone of their life and family, and we took that and built upon it."
Dome also spoke about having originally wanted to take a very different direction with this film project.
"We had a version of the script which was very historic. In all honesty, it just wasn't emotional. You didn't feel anything. It was more documentary–like, and just all the facts of the time. We were seeing that it just didn't work, it didn't resonate. So I approached it differently. How can I make it emotional? How can I make it come from him? I decided to do it as a dream. What if he's lying in South Hampton, dreaming about the war, and having these visions . Focusing on what is the emotional feeling of the war, what is he taking from it, what is he carrying. Losing friends, not being able to save Jeffery Smith, which would have been extremely painful for him. This direction fit better in order to create that real human emotion."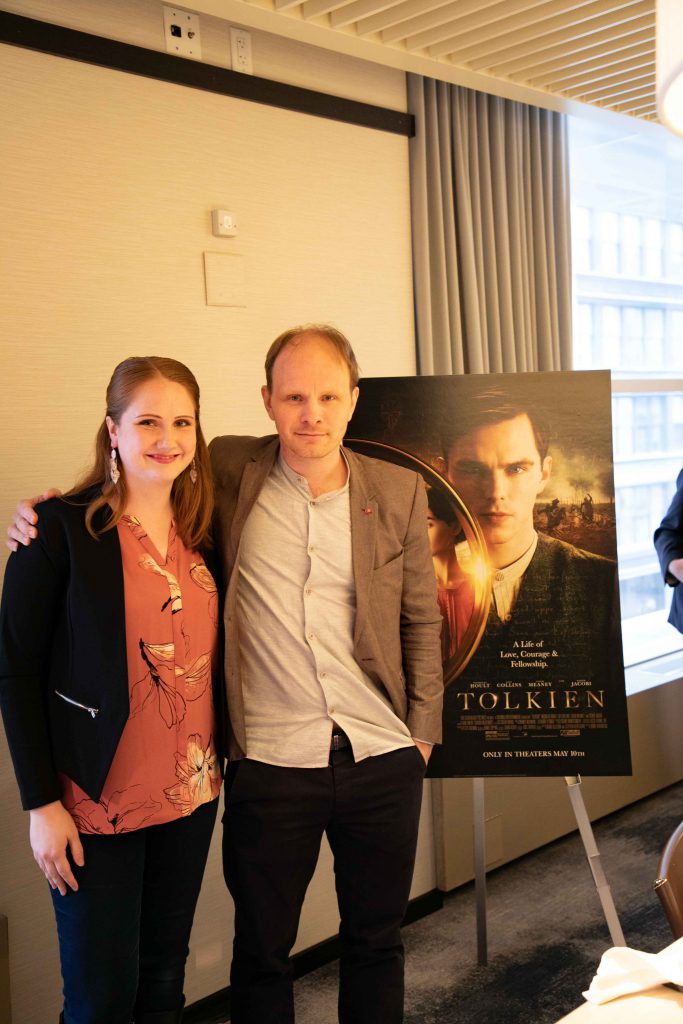 After the group discussion, we were granted one on one time with Dome to discuss his thought process, and more. Here is what ImladrisRose and Thorongil had to ask the director:
What is your favorite aspect of Tolkien's writing? Is it the way his characters are drawn out, or the epic quality of his tales?
Hmm. What's intriguing to me is, when I was younger it was the adventure. You were able to read his works and escape. Being bullied and feeling alone as a child, having that as an escape helped me a great deal. The older I've gotten, I value more the societal aspects of his writing. There is so much about humanity, and there is a lot there that is extremely intellectual about his work. Perhaps not The Hobbit as much, but even that is a tale about the power of corruption and greed if you look at Thorin Oakenshield, Smaug. In many ways it's the human aspect of it, especially the corruption of the mind. A lot of his characters get corrupted somehow and I love that detail, that character development. They become quite dark, many of his characters and his stories too.
Some publications have reported that the Tolkien Estate has not approved your movie. (We note that they haven't approved any Tolkien movie in the last forty years!) As an unauthorized biopic, what parts of Tolkien's life inspired you to make the movie that you did?
"To answer first the authorization of a biopic, no other biopics are done with full authorization from the estates, because very easily you get what is called "Winner's History". Kind of a controlled image of the
story you are trying to tell, regardless of your goal in the story and you very easily become their friends and start servicing them. They have the right to say what they want, but they haven't seen the film, which of course you would want them to see the film and then discuss their opinions about it. But I understand that. I totally understand the emotion behind it. I think my film was done out of respect and out of total admiration and love for him (Tolkien).
That's the first thing, It's very liberating and intriguing for some people to see that I've chosen to represent his younger years, his more formative years. Just as a society, we have this image of Tolkien, you know, with C.S. Lewis and we kind of see these privileged Oxford kids, these elitist Oxford kids. You think that they come from rich families. I think you will look at Tolkien differently now. I looked at him differently. He's actually this poor kid, coming out of very, very difficult experiences. Being orphaned at age 12 and then basically fighting to become who he is. That story for me, makes me admire him even more. He had to actually really fight and survive WWI. I think it was a really beautiful, crucial part of his life that is also very cinematic and dramatic."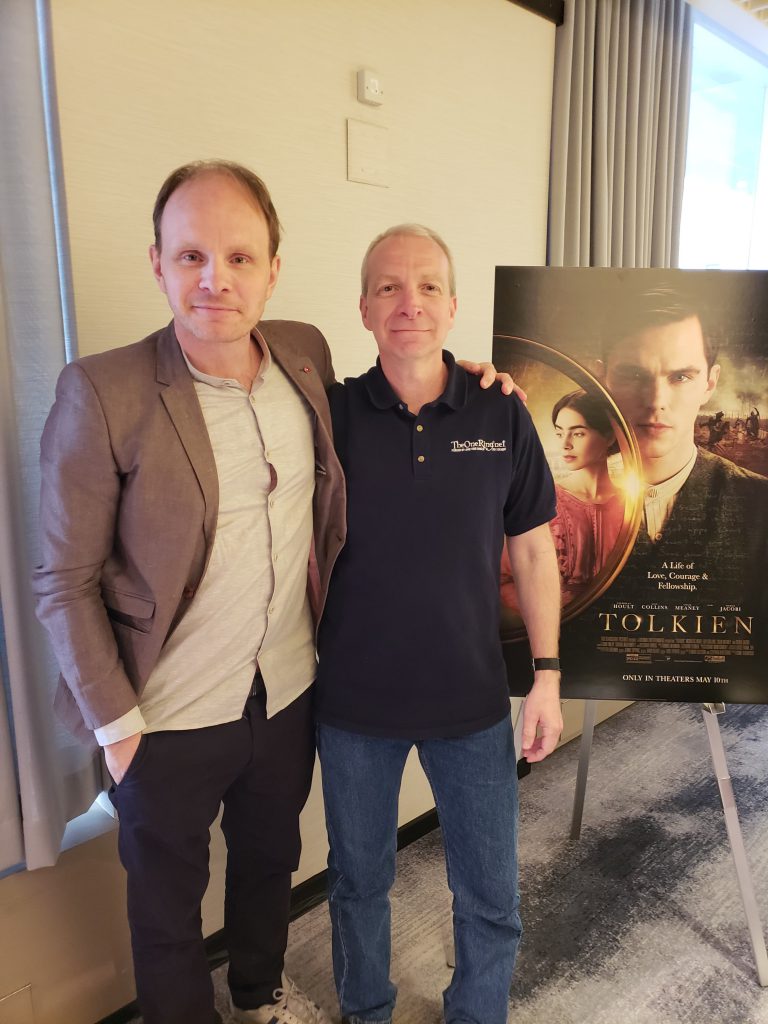 So it was Tolkien's experience in WWI that you used as the particular lens to examine his life with. What drew you to focus particularly on that aspect of his life? In what ways do you think war made Tolkien the man and the creator that he was?
"Screen time wise it's not actually that big. I think it's only about fifteen screen minutes of the entire film, the war parts. But the feeling, you get a feeling from it that carries throughout the film. It wasn't actually intentional to focus as much on the war as we did, but emotionally it's there throughout. The emotions that he experienced are something he carried with him for quite sometime, and that you see. Emotionally it was such a heavy experience for him and I think as an audience you carry that with you. I think that's still right. He himself said that war wasn't an inspiration for Mordor or anything, but I think the emotional element was, even subconsciously. I approached the war scenes as a dream. He would be lying in hospital in South Hampton, in his trench fever. How would he dream the war? What was his emotional takeaway from those moments? I think his emotional take is something that we can see in his mythologies. Those emotions are in those innocent people, those innocent souls being destroyed by evil. That's something that I can see affected him deeply."
The explosions that we saw in the film, would you tell us more about your thought process behind those moments?
"This all derives from the same tree of ideas that no fantasy element, no idea is fully finished. It's not yet Durin's Bane. It's not yet. It's a creature of fire and shadow. And you think 'where has he seen this before?' In explosions, in war! So you try to pin point to the audience, where do these ideas perhaps come from? Because there are only a couple of confirmed direct inspirations, for example, the story of Beren and Luthien. To show and open up to the audience how he's built his stories, you have to pick a few elements here and there to try to explain how his mind works. You have to try to explain how the mind of an artist works. And hopefully it will inspire those who are creating to add something to their own creations. I mean, there are favorite moments of course, like that with Morgoth, but he's not Morgoth yet. At this point in Tolkien's story, in his life, Morgoth has not been created. He's there, but he's not. The emotion is there, of a battle that is totally in vain. Perhaps somehow that is in his writings."
Did you feel compelled to echo previous interpretations of Tolkien's work in your storytelling; were you visually inspired by other interpretations on film, or by artists such as Alan Lee?
"No, no. I was really lucky. I read the books before the films. At the time, I was living in a rural village of about 2000 people and there was only one VHS rental! And if it wasn't at that rental, then it didn't exist in my life yet. Like the animated version, it took me fifteen years to see that, and that was when it came out on Finnish TV. The ideas and the visions that I had and that I showed in this movie are from what I felt, and my initial reactions to the books. How I saw Middle–earth. There are some things that I saw differently when I read the books compared to seeing the movies. For example, Mordor I saw completely differently. The Shire was similar, but that's a pretty standard British landscape like that which Tolkien was used to. There are other places, like Mirkwood, I saw totally differently than it was shown in The Hobbit movies. But that's the great thing about a time before the internet. You would read a book and have your own idea of what things look like. Now you can google "Elven Princess" and the internet shows you. I can't imagine 13 year old me with the internet and an elven princess being my first crush. Before I could imagine my first crush however I wanted her to be, now the internet tells me how she is! Basically, with the film, the idea was to go back to my childhood interpretations of these worlds and these stories. And since at the time of the film, he hasn't written anything yet, you have to take a step back and think 'what was his first thought? what sparked this character? or this place?' That's what we are seeing in the film, ideas that he is still fleshing out, his drafts before there was a first draft.
One example is the Black Knight. He's not yet the Nazgul. It's decades before he's going to write that. Maybe he has an idea of Riders, but it isn't fully developed. And where did that come from? How do I show how Tolkien's mind works? This is what we tried to do with this film."

One of the most beautiful scenes in the film seems to be a nod to Tolkien's early stories in The Silmarillion. How did you visually come about depicting the two trees?
"I think the love of trees is very instrumental to him. We've read stories and even in some of the biographies. He felt a real pain when some of the trees from his own Shire of his childhood were cut down. And he would later see that the tree was just still lying there, so it was cut down for no reason. He felt trees had a spirit of their own. We thought, how would he use the idea of trees having their own spirits and how would he form those ideas for his mythologies? Ents being shepherds in the later stories. We see in the scene at the Grand Cafe, we get a glimpse of the first ideas of the Trees of Valinor. It shows that there's something here, there's that spark, but he's not finished yet. It's the start of that idea."
How did you get into Directing?
"I was a very poor kid. I was an outsider. I was growing without a father, who I later knew. The theme of poverty was prominent in Tolkien's work. There were a lot of Tolkien experts who told us that he loved to work but he worked so hard and so much to avoid being poor again. He didn't want to be a poor person again. I recognize and can relate to that. When I was young I was trying to think of jobs that would keep me from being poor. At one point we didn't have running water so I thought I'd be a lawyer or something. Then I met my dad in my late teens and he was an actor. I began to know myself a bit better so I said I would be an actor. My mother was a journalist so that was an option too. I applied to acting school but I didn't get in. I applied to film school and here we are."
Are there any other writers or historical figures that you would want
to make a film about?
"Perhaps not. I think it's always difficult. As you know, there has been a little bit of Catholic backlash and it's always a problem because it's impossible to satisfy everyone. And people will say "Oh, but Lord of
the Rings has clear religious elements". Well okay, but he's not writing Lord of the Rings at the time of this movie. He's not writing it yet. This is thirty years before Lord of the Rings, and we do show the Catholic inspirations and influences in his life, like with Father Francis. But he's not yet writing those books so we can't have him in the church, and getting knighted for that when it hasn't happened yet. People passionately go against everything when it's a real life character, so I think I'm doing fiction next, and for a while! People have the rights to their opinions, but at the same time you've made choices to try to present the best possible film while still trying to be authentic to the person and their history by bringing forward the best emotion from that era of their life. It's so difficult to explain to people when it's based on a real life person because you're trying to make the best film that you can while upholding the legacy of the individual."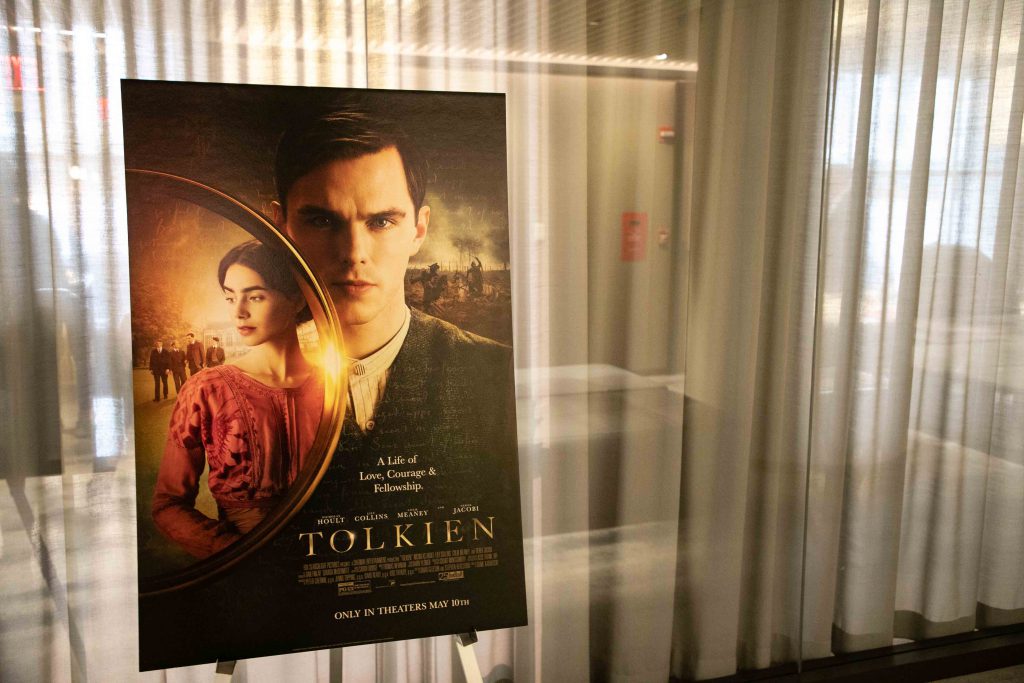 Which of Tolkien's works is your favorite?
"The Silmarillion now as an adult has become my favorite. Unfinished Tales also. It's changed over the years though. As a child and young adult it was Lord of the Rings. As a young boy, I was bullied a lot, and those characters became my friends. That world had a profound effect on me. I really wanted to make the books into a film but I was in film school at the time that Peter Jackson was working on it. Have a bit of envy of him towards that. I think he did a really great adaptation of the books, but I probably would have found a way to have Tom Bombadil in it! During my art school years my favorite was Leaf by Niggle. It's basically about artistic anxiety which everyone has in art school, so it really resonated with me at that time. And then there was a fun time where I just really enjoyed The Adventures of Tom Bombadil."
Well, who is Tom Bombadil?
"In my mind, he can't be Arda himself. Tolkien himself said that in every mythology there has to be some mystery. For him, Tom Bombadil was that mystery. I think he's the spirit of the forest. You could think that he's a Bard because of the singing. For me, he's the spirit of the forest. And who does he marry? The daughter of the river. I don't think he's one of the Valar because he'd have to be a different form of them. I don't know. Perhaps the Professor deliberately left it that way so that no one could figure it out. He'd probably be amused by this conversation."
He would probably love hearing peoples theories!
"Definitely. He's probably laughing at us right now!"
That is an encouraging thought…
===============================================
Meet-up with fellow fans to celebrate the releases of this film! Get the full details on tickets and an exclusive giveaway! [Click here]