The Bodleian Library in Oxford has an exceptional exhibition coming up later this year, which fans will no doubt travel far and wide to see. Tolkien: Maker of Middle-earth (June 1 – October 28) will display an extraordinary collection of illustrations, manuscripts, letters, personal belongings and more, giving a unique insight into J.R.R. Tolkien and his works. This 'once in a lifetime' exhibition is not to be missed – and thanks to our friends at the Bodleian, TheOneRing.net can reveal exclusively that tickets will be available from 2pm UK time tomorrow, Tuesday 13th February. Here's what the Bodleian tell us:
The Bodleian Library is pleased to announce that free tickets for the upcoming, once in a lifetime exhibition, Tolkien: Maker of Middle-earth, will be available for booking from 2pm UK time on Tuesday 13 February 2018. We know that some visitors will want to travel some distance to this exhibition and want to help them ensure their entry in advance.
To book your tickets, visit the official Tolkien: Maker of Middle-earth website at https://tolkien.bodleian.ox.ac.uk/about-the-exhibition where they will be available from 

2pm

 on 

Tuesday 13 February 2018

.

Tolkien: Maker of Middle-earth explores Tolkien's amazing legacy from his genius as an artist, poet, linguist, and author to his academic career and private life. The exhibition takes you on a journey through Tolkien's famous works, The Hobbit and The Lord of The Rings, displaying an array of draft manuscripts, striking illustrations and maps drawn for his publications.

Visitors will discover Tolkien's early abstract paintings from The Book of Ishness, the touching tales he wrote for his children, rare objects that belonged to Tolkien, exclusive fan mail, and private letters.

The exhibition runs 1 June to 28 October 2018 at the Bodleian Libraries, University of Oxford.
If you've been thinking about making a pilgrimage to Oxford, this summer/autumn is the time to go; and be sure to grab those tickets tomorrow! Check out the exhibition website, here.
Thanks to the Bodleian Library for allowing us to make this announcement.
Posted in Calendar, Events, Exhibits, Headlines, Hobbit Book, J.R.R. Tolkien, Lord of the Rings, LotR Books, Other Tolkien books, The Hobbit, Tolkien
Ian McKellen has called it his 'last big Shakespeare part' – and now you have another chance to see it! Last year's high acclaimed Chichester Festival Theatre production of King Lear will play at London's Duke of York's theatre, (which happens to be the theatre where McKellen made his West End debut, 54 years ago), from 11th July this summer.
You can read more about Jonathan Munby's production here. Sir Ian tweeted this morning about the 100 show run. Tickets will go on sale on Monday 12th February.
Posted in Events, Hobbit Cast News, Hobbit Movie, Ian McKellen, Lord of the Rings, LotR Cast News, LotR Movies, Stage Productions, The Hobbit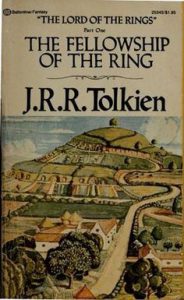 In a fascinating article, TORn staffer and author Kristin Thompson gives us some invaluable insight into some of the legal wranglings which may have led to this new The Lord of the Rings television series deal:
The announcement that Amazon will be producing a multi-season television series based on The Lord of the Rings has caused much speculation and not a little confusion. One common assumption seems to be that the television rights to the two hobbit novels were sold to United Artists in 1969, when it obtained the production and distribution rights to make film adaptations. (more…)
Posted in Amazon TV series, Fellowship of the Ring, Hobbit Book, J.R.R. Tolkien, Lord of the Rings, LotR Books, New Line Cinema, Return of the King, Studios, Television, The Hobbit, The Two Towers, Tolkien, Tolkien Estate, Warner Bros.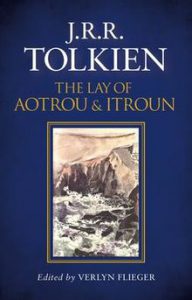 Fans who are waiting to hear further news about a possible Lord of the Rings television series can keep themselves busy for a while with a new publication of Tolkien's poem, The Lay of Aotrou and Itroun. Although this work was released by UK publishers Harper Collins last year, it is available today from American publishers Houghton Mifflin Harcourt. Here's what they tell us about the book:
Houghton Mifflin Harcourt is proud to announce the publication on November 7, 2017 of THE LAY OF AOTROU AND ITROUN by J.R.R. Tolkien, edited by Verlyn Flieger. Unavailable for more than 70 years, this early but important work is published for the first time with Tolkien's 'Corrigan' poems and other supporting material, including a prefatory note by Christopher Tolkien.
Set 'In Britain's land beyond the seas' during the Age of Chivalry, THE LAY OF AOTROU AND ITROUN tells of a childless Breton Lord and Lady (the 'Aotrou' and 'Itroun' of the title) and the tragedy that befalls them when Aotrou seeks to remedy their situation with the aid of a magic potion obtained from a corrigan, or malevolent fairy. When the potion succeeds and Itroun bears twins, the corrigan returns seeking her fee, and Aotrou is forced to choose between betraying his marriage and losing his life.
Coming from the darker side of J.R.R. Tolkien's imagination, THE LAY OF AOTROU AND ITROUN, together with the two shorter 'Corrigan' poems that lead up to it and which are also included, was the outcome of a comparatively short but intense period in Tolkien's life when he was deeply engaged with Celtic, and particularly Breton, myth and legend.
Originally written in 1930 and long out of print, this early but seminal work is an important addition to the non-Middle-earth portion of his canon and should be set alongside Tolkien's other retellings of myth and legend, The Legend of Sigurd and Gudrún, The Fall of Arthur and The Story of Kullervo. Like these works, it belongs to a small but important corpus of his ventures into 'real-world' mythologies, each of which in its own way would be a formative influence on his own legendarium.
We have FIVE copies to give away to lucky fans in the US! To enter, simply complete the entry form, and answer the following question:
Who is the editor of this new edition of The Lay of Aotrou and Itroun?
Complete the entry form by 5pm EST on Monday 13th November. [Enter Here] Five winners will then be chosen at random, and a copy of the latest Tolkien publication will be mailed to them. Good luck!  (Sorry, this competition is only available to fans living in the United States.)
For those who don't win, you can buy the book here; and it is also available as an e-book.
UPDATE: Many thanks to all who entered our competition. The winners have been notified by email, and their books are on the way to them!
Posted in Books, Books Publications, Christopher Tolkien, Contests, Events, J.R.R. Tolkien, Lord of the Rings, Merchandise, Other Tolkien books, Shop, Tolkien
Ringer TheHutt was recently at the 2017 Medieval Fantasy Convention in Germany. Lord of the Rings and The Hobbit actors Adam Brown, Sean Astin, Manu Bennett and David Wenham were among the many guests. Read on for TheHutt's full report!
Medieval Fantasy Convention in Germany: a report from TheHutt
By TheHutt
Photos: Silv
Originally published at Henneth-Annun.ru
Readers following actors from The Hobbit on social networks might have noticed that some of them suddenly started posing with owls in front of picturesque medieval walls. No wonder: the atmosphere of the Castle Burg in the German town of Solingen is quite inviting for taking pictures.
Historical info: Castle Burg ("Schloss Burg", literally meaning "Castle Castle") was built in the 12th century by the Count von Berg. It was destroyed in the 14xx's and then rebuilt in the 19th century. It is situated on a mountain over the river Wupper.
Posted in Adam Brown, Conventions, David Wenham, Events, Manu Bennett, Sean Astin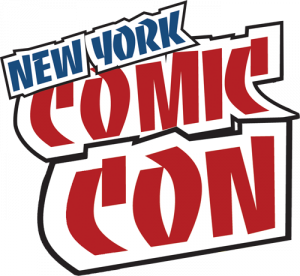 New York Comic Con is almost here! Alas, TheOneRing.net won't be there this year; for a number of reasons, we aren't able to have our usual booth and party at this NYCC. But don't despair – it doesn't mean we'll never be back! We are hoping to see Ringers take Manhattan again next year – so mark your calendars to moot in the Big Apple 2018.
Meanwhile – for those of you who will be in New York City this coming weekend, there is an event for Middle-earth fans! Our friends at Warner Bros. Interactive Entertainment and Monolith Productions are celebrating the Middle-earth: Shadow of War game with a special gathering on Thursday 5th October. Full details can be found here.  We're told there will be food, drinks, giveaways and more! Even if you're not a gamer, it seems like a great chance to hang out with some fellow Middle-earth fans. Limited capacity so get there early!
And if you are at New York Comic Con this weekend, please do share with us any Tolkien related sightings or fun. Have a great time!
Posted in Conventions, Events, Fans, Gaming, Meet Ups, NYCC, Studios, Video games, Warner Bros.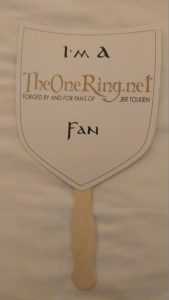 The Dragon is upon us! It's only Thursday and yet, even though DragonCon doesn't officially start until tomorrow, there was merriment and partying even last night here in the Marriott Marquis in Atlanta. Deej and greendragon are at DragonCon to represent TORn, and we're looking forward to a fun weekend with our fellow fans! Here's what's going on:
Even though the Tolkien Track has sailed into the West, there will still be lots of Middle-earth related happenings over the course of the convention. Check out the High Fantasy Track schedule for details! Some highlights:
Friday 10am: 'Namarie: Farewell Tolkien Track'. TORn staff will be joining Track staff to reminisce and celebrate the Tolkien Track – and look forward to the continuation of friendships and community, for many years to come, even without the Track.
Friday 7pm: 'Elf Choir' – come along and join in!
Saturday 4pm: 'Preciousss Moments with Gollum and Sméagol' – lead by Constance Wagner, whose very popular panels are always fascinating and insightful.
Saturday 5.30pm: 'Beren and Luthien' – a closer look at the latest Tolkien publication.
Monday 10am: 'Still Tolkien About It: 80 Years of Middle-earth'. Join TORn staffers deej and greendragon, together with scholar Constance Wagner, to look back on the past 80 years since The Hobbit was first published. What has made Middle-earth such an enduring passion – and to what can we look forward?
All of the above are in the High Fantasy Track Room – L401-403 in the Marriott (where the Tolkien Track was in the past).
In addition, on Friday night we have, of course, the ever popular Evening at Bree! This will be held in the Hilton Grand Ballroom West, from 8.30pm – be sure to get in line early! We have a party of special magnificence planned this year! Bands Toucan Dubh and the Brobdingnagian Bards will be providing live music, followed by a dance party hosted by our very own DJ, deej. We'll also have the costume contest and the performance by the Elf Choir, plus this year you can expect one or two special surprises. With the theme of 'Class of 3018 Prom – Enchantment under the Mountain', we'll say farewell to the graduating Tolkien Track seniors; and your host Prom Bombadil will be there to make the evening go with a ring a dong dillo!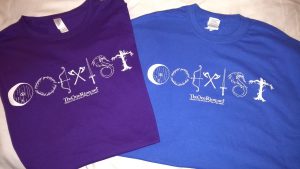 On Sunday night you can hear the Brobdingnagian Bards again, playing Hobbit Drinking Songs in the Hilton Crystal Ballroom from 8.30pm.
And of course TORn has a table! Come and find us in our usual spot in the Hyatt. For shirts this year we're bringing back an old favourite – the Lake-town Fire Department – and we have a fabulous new design, encouraging the races of Middle-earth to Coexist. We also have new buttons, fans, and lots of prizes you could win. Come and check out all the goodies – and be sure to say hi to deej and greendragon!
There may not be a Tolkien Track, but Tolkien fans are here in force, and we're ready for a great weekend of fun and companionship. Half the Shire's been invited – hope to see you, too!
Posted in Clothing, Clothing, Conventions, DragonCon, Events, Fans, Lord of the Rings, Merchandise, Other Tolkien books, Shop, The Hobbit, TheOneRing.net Announcements, TheOneRing.net Community, Tolkien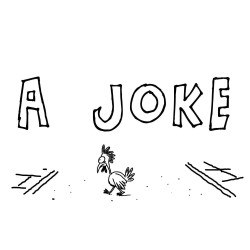 As we mentioned on our Facebook page last week, Sylvester McCoy is currently appearing (along side fellow geek-favourite Robert Picardo, of Star Trek: Voyager fame), in a play in the Edinburgh Fringe. Dan Freeman's comedy A Joke stars McCoy and Picardo, along with Richard Oliver – and is a brilliant piece of absurdist comedy and meta-theatricality. Cleverly written, the play is performed in the round (or square, to be more accurate), and plays with and subverts the expectations of humour.
Freeman's piece is startlingly good, as are the three players. Packed with delightful, laugh out loud moments, as well as thought-provoking writing, this is definitely one to see. If you're in Scotland, you have until Saturday 26th August to catch it. If you're not in the area, well, perhaps you can help to bring the play to other venues; or help to support a filmed version of the show. Check out details on Freeman's website, here.
You can read All Edinburgh Theatre's review of the show here; and full details on how to get tickets are here. TORn's greendragon saw the show last week and was absolutely charmed by it; do see it if you can!
Posted in Events, Hobbit Cast News, Hobbit Movie, Stage Productions, Sylvester McCoy, The Hobbit
Many of our readers will be familiar with the superb work of artist Donato Giancola, whose stunning paintings have graced the covers of many books, including editions of both The Lord of the Rings and The Hobbit. He's a good friend of TORn's, and some of you may have met him at one of our 'Ringers Take Manhattan' parties.
This weekend, Giancola will be appearing as Artist Guest of Honour at GenCon in Indianapolis. He'll also be appearing at New York ComicCon in October. He has recently completed a fabulous new work set in Middle-earth: The Fellowship in Hollin.  Here's what Donato had to say about creating this landscape:
Posted in Artwork, Conventions, Events, Exhibits, Hobbit Book, Lord of the Rings, LotR Books, Merchandise, Shop, The Hobbit, Tolkien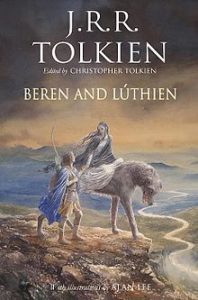 Yesterday saw the publication of a new book – but not a new story – by J. R. R. Tolkien. Almost a century after the Professor first conceived his tale of immortal love, Beren and Luthien has been edited by his son Christopher, and illustrated by Alan Lee. It is published in the UK by Harper Collins, in the US by Houghton Mifflin Harcourt, and in multiple languages by different publishers across the world. Harper Collins tell us:
The tale of Beren and Lúthien was, or became, an essential element in the evolution of The Silmarillion, the myths and legends of the First Age of the World conceived by J.R.R. Tolkien. Returning from France and the battle of the Somme at the end of 1916, he wrote the tale in the following year.
Essential to the story, and never changed, is the fate that shadowed the love of Beren and Lúthien: for Beren was a mortal man, but Lúthien was an immortal Elf. Her father, a great Elvish lord, in deep opposition to Beren, imposed on him an impossible task that he must perform before he might wed Lúthien. This is the kernel of the legend; and it leads to the supremely heroic attempt of Beren and Lúthien together to rob the greatest of all evil beings, Melkor, called Morgoth, the Black Enemy, of a Silmaril.
In this book Christopher Tolkien has attempted to extract the story of Beren and Lúthien from the comprehensive work in which it was embedded; but that story was itself changing as it developed new associations within the larger history. To show something of the process whereby this legend of Middle-earth evolved over the years, he has told the story in his father's own words by giving, first, its original form, and then passages in prose and verse from later texts that illustrate the narrative as it changed. Presented together for the first time, they reveal aspects of the story, both in event and in narrative immediacy, that were afterwards lost.
The publication comes ten years after the last Middle-earth work of Tolkien's to come to press, Children of Hurin. You can read more about this new release here. We'd love to read your reviews – share your thoughts in the comments below!
Posted in Alan Lee, Books, Books Publications, Christopher Tolkien, Headlines, J.R.R. Tolkien, Merchandise, Other Tolkien books, Shop, Silmarillion, Tolkien
Our friends at Warner Bros. Home Entertainment let us know that they are celebrating the launch of The Lego Batman Movie by taking over the iTunes store! The store movies homepage will feature exclusive 'Lego-ized' images of fan favorites, including The Lord of the Rings: The Fellowship of the Ring and The Lord of the Rings: The Two Towers. Other films re-imagined in bricks and minifigs include The Wizard of Oz and Harry Potter and the Deathly Hallows: Part 2. Head on over to iTunes and take a look – the 'Lego-ized' movie posters scroll across the top of the movies homepage. Here's a sneak preview of The Two Towers image:

Posted in Lord of the Rings, LotR Movies, Miscellaneous, Movie Fellowship of the Ring, Movie The Two Towers, Shop, Studios, Warner Bros.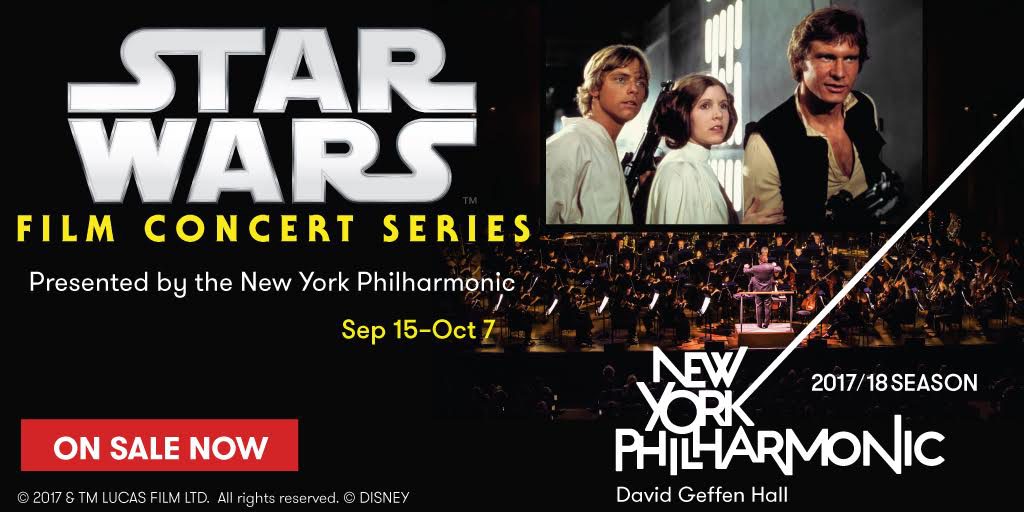 Yes we're all about Middle-earth here at TheOneRing.net – but we know that many of our fellow fans (and staffers!) are also big fans of a certain galaxy far, far away! So in honour of Star Wars Day, we thought you might like to know about some very exciting performances coming up at Lincoln Center:
In September and October this year, the New York Philharmonic will be presenting the World Premiere Star Wars Film Concert series. There will be nine concerts, led by acclaimed conductor David Newman: two screenings each of Episodes 4, 6 and 7, and three screenings (because it's the best – discuss!) of Episode 5. The New York Philharmonic tell us:
Since the release of the first Star Wars movie nearly 40 years ago, the Star Wars saga has had a seismic impact on both cinema and culture, inspiring audiences around the world with its mythic storytelling, captivating characters, groundbreaking special effects, and iconic musical scores composed by Williams. Fans will be able to experience the scope and grandeur of these beloved Star Wars films in a live symphonic concert experience, as the Star Wars Film Concert Series premieres from September 15 through October 7 at David Geffen Hall in New York City. Legendary composer Williams is well known for scoring all seven of the Star Wars saga films, beginning with 1977's A New Hope, for which he earned an Academy Award for Best Original Score. His scores for The Empire Strikes Back, Return of the Jedi, and The Force Awakens each were nominated for Oscars for Best Original Score.
Don't miss this is your chance to watch A New Hope, The Empire Strikes Back, Return of the Jedi and The Force Awakens on the big screen, accompanied by live orchestra; those of us lucky enough to have seen The Lord of the Rings film concerts know how special such occasions are. Tickets are on sale to the general public TODAY – you can purchase them online here or by calling (212) 875-5656! Follow @NewYorkPhilharmonic on twitter.
Click here for details of dates and times, and to buy tickets. 
Posted in Concerts, Events, Film Screenings