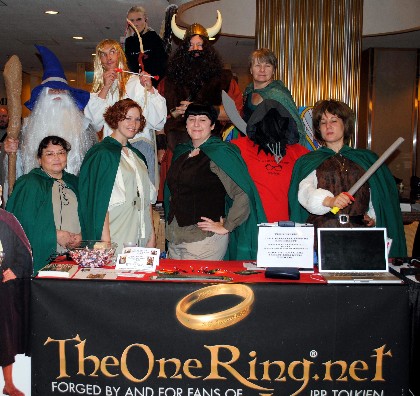 Things are moving in the Hobbit world; there are rumors afoot of castings, contracts, scripts and even start dates. It's all very exciting and if you were at TORn's panels at DragonCon this year, you were prepared for it!
Yes, TheOneRing.net was present again this year at one of the world's biggest fan-based convention. Staffers from TORn ran a table over the course of the weekend, where we had the great pleasure of chatting to fans, meeting regular TORn visitors, catching up with old friends and faithful supporters, and introducing newbies to the joys of the website. Over the four days of the convention we gave out freebies, distributed candy to those brave enough to answer Tolkien trivia, sold t-shirts to help keep the website attending conventions and events, and provided the fun of the 'Don't you know you're [sic] Sam?' photo opportunity! Apologies Samwise fans, but we decapitated Sam in a hobbit standee, so folks could pose with their head in his place; and all kinds of aliens, cartoon characters, heroes and villains stepped up over the weekend to
offer to 'share the load…' For images from the weekend click here. Lots more written details after the break!
Sean Astin was at the convention as well but despite the fun prospect of having his flesh face replace his cardboard face, busy actors are difficult to approach and we were immersed in fandom. He was excellent in his big-room panel conversation with fans and was available for autographs and photos as well.
We were happy to use the table to spread the word about other happenings in the world of Tolkien fandom, and we were very glad to support our good friend Donato Giancola, whose beautiful book, 'Middle Earth: Visions of a Modern Myth' will be released later this month (look for a review soon here on TORn). We also helped to spread the good word about the wonderful fan film, 'Born of Hope', which screened at DragonCon (and is also available on YouTube), and about Ethan Gilsdorf's great book, 'Fantasy Freaks and Gaming Geeks.' Ethan and Donato generously donated prizes for us to give away at our panels, for which we were very grateful. And we must give a BIG shout out to TheTolkienShop.com, who not only donated the hobbit standee – source of so much mirth over the
weekend – but who also gave us 300 pens to give out at the table, on which was written, 'This pen was
stolen from The Tolkien Shop'!
SideshowCollectibles.com has been a friend to the Tolkien Track and TORn for many years and we were delighted to give away hundreds of gift cards for their site, much to the disbelief of those who couldn't believe they were getting something so valuable for free. Thanks to them and to all who so kindly support TORn, which continues to be a not-for-profit site, forged by and for fans.
But I started this write up by mentioning panels… TORn staffers MrCere, deej and greendragon presented two panels at DragonCon this year, where we spilled the beans on all the latest inside gossip on The Hobbit movie. Calisuri had put together a wonderful PowerPoint presentation, on which we based our remarks, and we had many bits of secret information to share. Here's a summary of the facts we discussed – most of which regular visitors to this website will already know, but some of which were new and exclusive to DragonCon:
• The Hobbit scripts are completed! Warner Brothers execs have seen the scripts for the TWO films and they love them! Now we await the green light, which is being delayed because of MGM's ongoing financial problems. WETA and other production folks are ready to go – just waiting for that green light…
• Guillermo del Toro had to leave the movies because of the ongoing delays. It now looks likely that Peter Jackson will step into the breach and direct. [Though subsequent news suggests Neill Blomkamp may still be in the running.]
• Stars who were expected to return may start to encounter problems with conflicts, if this delay continues. Sir Ian McKellen's representatives have stated that Sir Ian, 'isn't waiting'. He wants to do the movies and WILL, but only IF they fit into his schedule. A very busy and in-demand actor, he isn't sitting around waiting for them to happen.
• A very good source told a TORn staffer that the first choice for Bilbo was selected! We couldn't share the name of the actor, but it seemed that they were going ahead with an excellent choice. At the same time, another casting call had been released (as has been discussed on TORn in the past few days) – so this made us wonder if the chosen Bilbo had fallen through. [Sure enough, the day after DragonCon was over news broke about Martin Freeman being approached and having to turn the role down because of 'Sherlock' commitments.]
• A production company which could be involved in providing materials for the movies had been approached, then had been told the movies were 'on hold'. In the past few weeks they were approached again and told that things would be going ahead…
• We also tantalized the attending fans by revealing that a very good source had told us that, as the script CURRENTLY stands, (so things could change), a very popular but unexpected cast member from the original trilogy will make an appearance in The Hobbit. That's all we can tell you on that for now…
There were many other issues discussed and dissected, but in conclusion we revealed that industry insiders had given us September 15th as the date MGM have been given as a FINAL deadline to resolve their financial troubles, one way or another. This we took to be a good thing; a resolution should mean
forward movement (we hope!). We all know that December/January (New Zealand's summer) is the time they need to be filming in The Shire, and therefore to avoid another full year's delay they need to have cameras ready to roll at the end of this year.
So, we announced, look out for things happening in the next couple of weeks! And boy, have things started to happen! All the news and rumors which have broken in the past week or so do indeed suggest that wheels are in motion; perhaps our prediction of December 2012 for the release of The Hobbit Part One may yet prove accurate.
DragonCon is an amazing time which every pop culture fan should experience at least once in a lifetime.
Just people watching and admiring the incredible homemade costumes on display is worth the cost of entry! (This year TORn had its own group costume – as the Ralph Bakshi cartoon Fellowship! We entered the costume contest at The Tolkien Track's 'Evening at Bree' and had a great time reminding people of a 70s classic. Costume goddess Charlie did most of the work of creating the merry band so a big salute to her.) There are also panels and workshops to attend, stars to meet and things to buy aplenty! TORn hopes to be back at DragonCon next year – and we must of course thank the Tolkien Track for the hard work they put into running excellent Middle-earth events each year. We hope we may see YOU there next year – and remember, if you want to be in on the latest Hobbit news before everyone else knows it, TORn is the place to be. Don't say we ain't good to ya…
You can see almost 50 images of the convention from a TORn-centric view right here