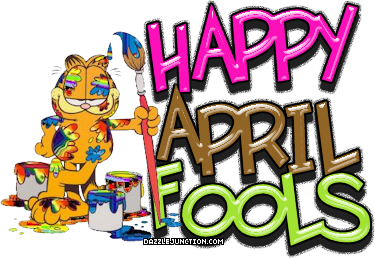 As many of you might have guessed, there were a couple of stories posted today that were a few facts shy of truthfulness, courtesy of your very tricksy TORn staff on the occasion of April Fools Day. Currently, Warner Bros has no plans to move the release date of "The Hobbit: There and Back Again" to July 2015 or any other date, and no, Peter Jackson has not hired Leonard Nimoy to reprise his "Ballad of Bilbo Baggins" song for the closing credits. We also had a little fun over on the message boards, highlighted by this post by DanielLB. Turns out there were April Fools jokes all over the inter webs today, and even a few with actual advertising, such as the Cheeteau perfume, that smells like Cheetos. None for me, thank you very much. A quick google search should come up with some of the best, but this reporter rather liked the the PBS report on Dolphins shooting rainbows out of their beaks, or Westjet converting to Metric time and giving you a mathematical equation to figure out the time conversion. So if you were scratching your head, wondering if something we said was true or not, rest assured that the two stories mentioned above were not true, but the interview with Luke Evans and the spoiler analysis from Cinemacon were true. And if you would like a walk down memory lane to April Fools past, you can find them on the TORn Mathom-house Wiki.
And for anyone wondering why Garfield the Cat is being used here, the answer lies in my nickname.
Posted in ComicCon Rumos, Conventions, Director news, Fans, Fool, Hobbit Movie, Hobbit Movie Rumors, Original TORn, Other Events, Parodies, Peter Jackson, Premieres, soundtrack, Studios, The Hobbit, The Hobbit: There and Back Again, Warner Bros.