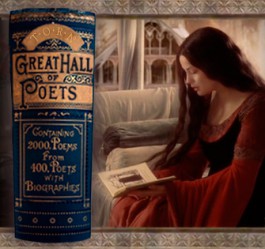 Welcome to The Great Hall of Poets, our regular monthly feature showcasing the talent of Middle-earth fans. Each month we will feature a small selection of the poems submitted, but we hope you will read all of the poems that we have received here in our Great Hall of Poets.
So come and join us by the hearth and enjoy!
If you have a Tolkien/Middle-earth inspired poem you'd like to share, then send it to poetry@theonering.net One poem per person may be submitted each month. Please make sure to proofread your work before sending it in. TheOneRing.net is not responsible for poems posting with spelling or grammatical errors.
'Radagast the Brown'
by D. McG
I have no time for Elvish folk
with their starstruck Elven ways.
Their monuments to their ancient lands
And fading glory days.
Nor do I care too much for Dwarves
And their love for digging deep.
Seeking treasures far underground
And the secrets that they keep.
Men and Orcs seem much alike
With their appetite for destruction.
Hunting, farming, grabbing land
Causing such a ruction!
Give me the company of the lovers of life.
No conflicts, no agenda to please.
Like the deer cavorting in open fields
Or the birds that sing in the trees.
Natures harvest provides the feast
Fruits so sweet and ripe
Along with the power to connect all things
Smoked within my pipe!
~~ * ~~