Fandom has lit up again with excitement as more Middle-earth movies, games, LEGO and merch are announced. Here's what we know about who can do what and where with new LOTR projects.
New Line Cinema continues to be the cinematic home for Middle-earth
Feb 2023 – After a year of wild moves and intense backroom conversations about the future of Lord of the Rings, New Line Cinema renews its 25-year-old license with Middle-earth Enterprises (MEE) who are now owned by Embracer Group. From the fan perspective, nothing has changed: Warner Bros & New Line are still producing THE WAR OF THE ROHIRRIM starring Miranda Otto as Eowyn and Brian Cox as Helm Hammerhand.
New projects have not been hinted at, but fans are speculating if Peter Jackson will deliver his promised Super-duper-extended "Unicorn Edition" LOTR featuring deleted scenes like Eowyn's wedding, Frodo-Gollum nightmare, and more. Peter Jackson is a newly minted multi-billionaire after selling Weta Digital's toolsets to Unity, and winning Emmy Awards for his Beatles documentary GET BACK.
TORn Tuesday reported over seven years ago that PJ has a secret vault with a "warts and all" documentary, featuring original Aragorn footage. With his documentary awards for GET BACK and THEY SHALL NOT GROW OLD, maybe the first new LOTR project ready to go is a doc?
Unconfirmed rumors for this new WB & LOTR movie deal have a three-year timeline in place — which would be similar to the time-restrictions put in place with Amazon's TV deal where they had to be in development within two years and in production within five years. This puts the 25th anniversary of Peter Jackson's LOTR into play as a way to celebrate the past and herald the future.
Prime Studios and New Line play nice, for now
During production of the billion-dollar-budget RINGS OF POWER series, a cooperation deal was put in place between Amazon and WB. All episodes of Season 1 of Amazon's show include a full screen logo credit for New Line Cinema, with the characters and some weapons bearing a striking resemblance to the aesthetic established by Peter Jackson's movies. There have also been rumors that Prime Video will be the streaming home of THE WAR OF THE ROHIRRIM after its global theatrical run (instead of WB owned HBOmax).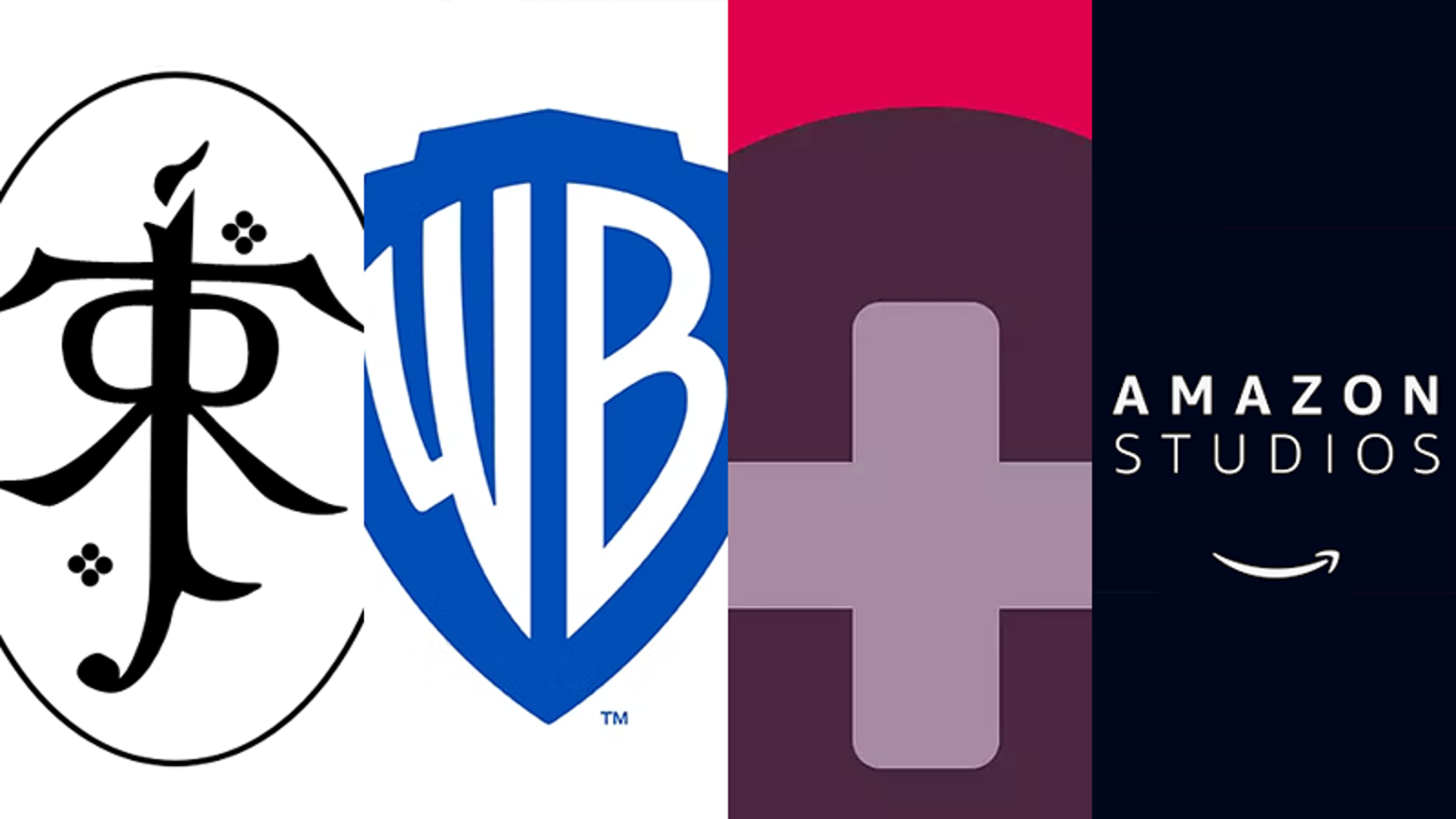 But, it seems the CEO of WB's owner, David Zaslav, does have a competitive bone to pick with Amazon's CEO, with The Hollywood Reporter reporting that he "even name-checked Amazon CEO Andy Jassy, almost as if to tease Amazon with the threat of new "Lord of the Rings" properties… and suggested that a move to launch new "Lord of the Rings" movies would take away some of the momentum that Amazon had enjoyed from its launch of a series based on the novels."
Amazon is solely in the Middle-earth TV business
Jeff Bezos and his team at Prime Studios negotiated directly with the Tolkien Estate for rights the family still held outside of anything New Line, MEE or Embracer have exploited in the past: rights to TV shows. Amazon currently must stay in that lane, but can create as many TV shows as they want with a minimum of 8 episodes per season. Amazon has announced five seasons of The Rings of Power, greenlit the first three, written the first two, are filming Season 2 now in the UK. They intend to make spinoff shows.
Prime has has only licensed the same exact two books that Embracer & Warner Bros has (The Hobbit and The Lord of the Rings), crafting any spinoff from any word or phrase from prologue to appendices. They have uniquely included current figurehead of the Tolkien estate, Simon Tolkien, in the development process, and he alone can approve usage of extra material from other books — such as The Silmarillion or The History of Middle-earth — on a case-by-case basis.
As secretive as Amazon is, word got out that they nearly went with a Young Aragorn show pitched by the Russo Brothers — fresh off their $2 billion Avengers Endgame run — which begs the question, why not both? Would Amazon greenlight another LOTR TV show now that more "friendly competition" from Warner Bros. is coming to cinemas?
Will there be a reboot of The LORD OF THE RINGS?
As of now, absolutely not. Nobody in control wants to reboot the most award-winning film of all time. The Tolkien Estate have mandated that the TV rights are not allowed to remake the movies. Despite WB's record of reboots and multiverses — last count there are seven Batmans in the cinematic zeitgeist — there seems to be an effort to keep Middle-earth as one cinematic universe to rule them all. Even the new feature film spin off THE WAR OF THE ROHIRRIM is an expansion of the Peter Jackson MeCU. There are plenty of new stories to mine from the books, and no remakes are expected in film or TV format.
Is Peter Jackson returning?
Unknown as of today. Peter Jackson put out a statement though:
"Warner Brothers and Embracer have kept us in the loop every step of the way. We look forward to speaking with them further to hear their vision for the franchise moving forward."

Peter Jackson
Philippa Boyens, his co-producer and co-writer of LOTR who shared in Oscar glory, is currently producing THE WAR OF THE ROHIRRIM with New Line Cinema. The new film is still "in the Jackson family" with Weta Workshop, John Howe, Alan Lee, and many other Hobbit veterans involved. Could all the local commotion re-ignite Peter's passion for Middle-earth? Would he come back in a supervisory role, similar to how Kevin Feige produces and manages all of MARVEL films? Only time will tell.
Where can I stream everything LOTR?
Many places! Netflix, Amazon Prime and HBOmax all have the LOTR trilogy Extended Editions streaming free with your account, depending on your country in the world. THE RINGS OF POWER is exclusively streaming on Prime Video and not for sale on DVD. Lord of the Rings has a fresh coat of paint in a 4K Blu-ray release from WB, which is also the version you can buy on iTunes and other digital platforms. The Hobbit movies are streaming on HBOmax, as well as the 1977 Rankin Bass classic animated Hobbit. We like to use JustWatch to see where Desolation of Smaug is currently available on any given month.
Are there really five new LOTR video games coming out?
Yes! Embracer Group, in addition to owning the LOTR rights, is a huge video game developer with tons of studios. They have announced five new LOTR games for 2023, each unrelated to the others, including:
Gollum Game
Return to Moria
Heroes of Middle-earth
Untitled Weta Workshop game
? unannounced ?
The Lord of the Rings has a long history of innovation in the video game space. LOTRO, the online MMO, is still going 15 years strong with new expansions and a larger player base than ever before. The console and PC Shadow of Mordor series introducing the Nemesis System and became one of the best of the PS4 generation games. Nearly all LOTR games are unrelated to any LOTR films — though some of us old nerds hold Return of the King fondly in memory.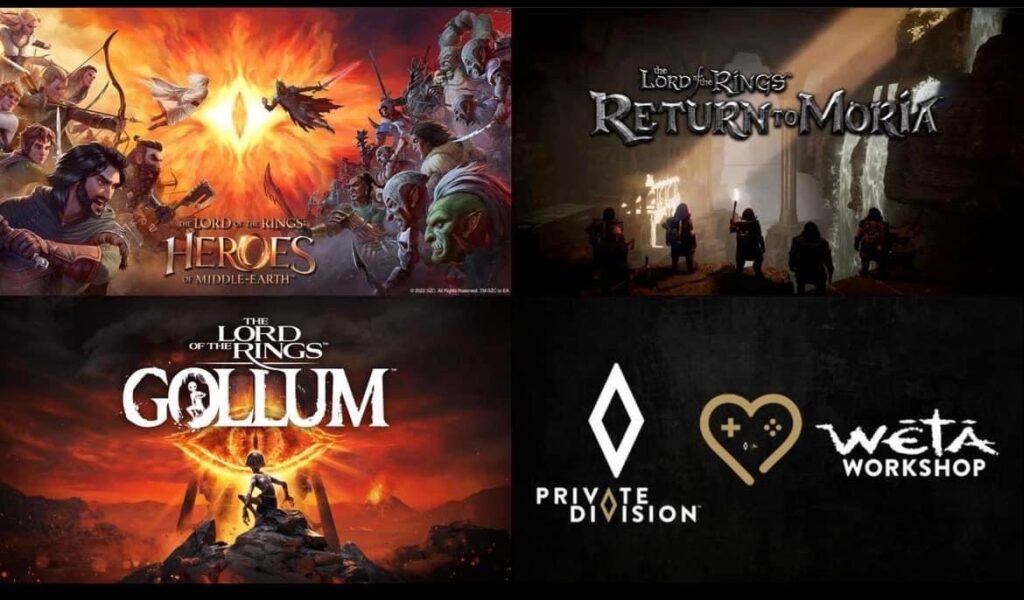 Separately, Magic: The Gathering is now selling a brand new licensed LOTR card game.
Who is Embracer?
Embracer Group is the new owner of rights that JRR Tolkien himself sold off in 1968. The Swedish gaming and rights holding company purchased these rights in 2022 from Saul Zaentz Company, which was used to create the Oscar-winning LOTR films. These rights, which JRR Tolkien later regretted selling off, are perpetual rights to do anything with everything in The Hobbit and Lord of the Rings books. This includes all merch, board games, card games, movies, theme parks, toys, albums, weapons, alcohol, video games and more. Everything except make TV shows.
Because Embracer owns merchandising rights, Amazon has to go through them to make any merch for RINGS OF POWER just as all the movie merch for LOTR and The Hobbit included "licensed by Saul Zaentz" or Middle-earth Enterprises. Through Embracer, LEGO just announced a new 6,000 piece Rivendell set based on Peter Jackson's movies that will no doubt sell out.
What's this about theme parks?
At dawn, on the fifth day, look to Orlando.
TL;DR of LOTR rights
Warner Bros & New Line Cinema producing more movies.
Amazon & Prime Studios make and stream TV shows.
WB releases movies in theaters, then offers to Prime for post-release streaming.
Games, cards and mobile apps are licensed, developed & released by Embracer.
General consensus is everyone wants to play nice within an unbroken cinematic universe.
---
Want to talk about all things LOTR — movies, games, art, and ROP? Join the TORn Discord at https://discord.gg/theonering