We hear via Deadline that Warner Bros. Animation is putting back the release of its animated feature film The War of the Rohirrim to December 2024. The new release date is December 13. Previously it was to open worldwide on April 12.
The seven-month delay is seemingly part of a cascade started by the shift of the release of Dune: Part 2 to March 15 — a slot previously occupied by Godzilla X Kong. GxK's one-month delay has subsequently forced WOTR into a new date.
Deadline notes that the only other movie set for a December 13 2024 release is Sony's The Karate Kid.
However, other reasons both sentimental and practical might have contributed to WOTR being pushed back seven months.
First, for Warner Bros. and New Line Cinemas, releasing films from the Middle-earth milieu is virtually a tradition now. That ought to play well with the fandom. Producer Jason DeMarco certainly seems to think it's a lucky one.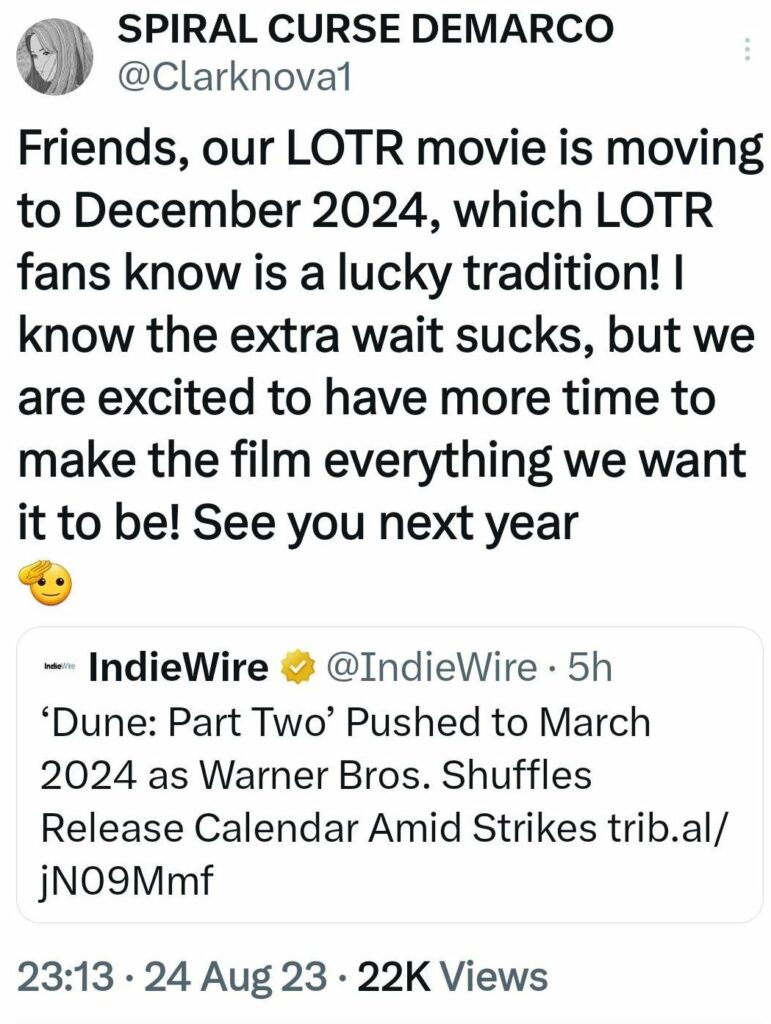 Second, it's no secret that the last several years have seen numerous well-credentialled anime series experience production crunches that have caused substantial release delays. Animator overwork and schedule slippage now seem so regular that insiders are asking themselves whether this situation is simply "the new normal".
Further, film director Kenji Kamiyama and Sola Entertainment (the animation studio) CEO Joseph Chou commented recently at Annecy Film Festival about the weight of work that remained on The War of the Rohirrim and that they were seeking additional talent to help with the film.
While they mostly seem done, Kenji and Joseph have a lot more to do, they're still deep in the production process. Kenji seemed stressed! "Probably the biggest film he's ever worked on". Kenji kept talking about the challenge of it, and was clearly still thinking deeply about "how he's gonna finish this film."

Joseph jokes about how the crew is going to have to work nights and weekends to finish this movie, which really bummed me out. Can we not normalize the brutal working hours in animation? I expect better tbh.

TORn Annecy Film Festival first look report
In that context, an extra seven months might also have been a prudent production decision.
About the author: Staffer Demosthenes has been involved with TheOneRing.net since 2001, serving first as an Associate News Editor, then as Chief News Editor during the making of the Hobbit films. Now he focuses on features and analysis. The opinions in this article are his own and do not necessarily represent those of TheOneRing.net and other staff.