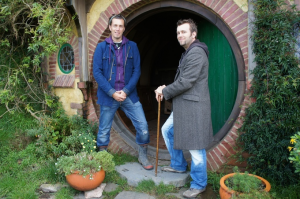 Many of you will know that Royd Tolkien, great-grandson of the Professor, is currently in New Zealand. He's completing a 'bucket list' of activities left for him by his brother, Mike, who sadly died from ALS (also known as MND) in 2015. Mike was an adrenaline junkie; Royd, by his own admission, is most definitely not. His brother's list, therefore, is a challenge for Royd, and will see him facing fears and undertaking all kinds of adventures on his mission – quest – thing…
All Royd's exploits are being filmed for a documentary, There's a Hole in my Bucket. You can find out more about it in this video: [click here]. Royd says, "It is a journey of discovery and inspiration," intended "to remind people how precious and important life is and to make every second count."
Those of you lucky enough to be in Wellington next week can join Royd on Wednesday, 12 April, at the Roxy Cinema in Miramar. At 'An Evening with Royd Tolkien', you'll hear him talk about his experiences completing his fifty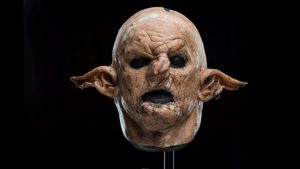 challenges (which should mostly be done by next week). You will also have the chance to bid in a fabulous auction, with none other than Jed Brophy as the star auctioneer! Today, Royd announced that one of the amazing items up for grabs is a genuine Weta Workshop full Orc Head prosthetic, made for one of Royd's challenges (see left). What an amazing addition that would make to any Middle-earth collection! Other auction items include a Gandalf statue signed by Peter Jackson himself, and pieces signed by Richard Taylor.
And the good news is – even if you aren't in New Zealand, you can still participate in the auction! If you check out the Facebook event page [here] you'll find an email address for Jodie, the event coordinator. To place an absentee bid on any of the auction items, we're told you can simply send Jodie an email, and she'll send you the Absentee Bidding Form, which lists all the auction items, reserve prices, and any the information you may need. If you're an avid Tolkien collector, an art fan, a wine connoisseur, a foodie, or even a keen sailor, you'll find something to please on the incredible list of auction items. Check out the event page, contact Jodie, and grab yourself an extraordinary treasure!
The event is a fundraiser for MND New Zealand. Details on how to buy tickets to attend are on the event page. If you'd like to know more about MND New Zealand, or support them, click here.
Be sure to let us know if you attend the event – we'd love to hear all about it!