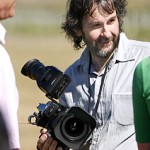 The New York Times broke this story that one Peter Jackson will be a guest at the 2009 San Diego Comic-Con.The director of the "Lord of the RIngs" trilogy of films has been a regular at the convention but only via video and has even said on recorded messages shown at the four-day celebration of popular culture that someday he would like to attend. He introduced material like the King Kong vs. three T-Rex scene from "King Kong," and also said his "hellos" to LOTR fans during the production of the films. He will officially be on hand at this year's event to talk about "District 9," which he is producing for director Neill Blomkamp but he also has several other irons in the fire, such as producing "The Hobbit," with Guillermo del Toro in two parts and working on "Tintin: Secret of the Unicorn," with Steven Spielberg and preparing for the release of his own "Lovely Bones," adaptation of Alice Sebold's novel.
TheOneRing.net will be there as well, trying to get a word with Jackson on all his various projects and following his presentation in the San Diego Convention Center's cavernous Hall H, which will be a difficult place to get into despite the 6,500 seats at a convention attended by around 140,000 unique visitors. Also a regular fixture on the convention floor is the Weta booth which promises some fun updates this year and TORn hopes to present an update to last year's popular presentation, an unofficial look at "The Hobbit." Watch TheOneRing.net for updates live from Comic-Con July 23-26. Unfortunately, the convention is completely sold out of both its four-day passes and for all of the individual day passes. The official Comic-Con site does not yet list Jackson as a guest but watch this space for further Comic-Con news.
Hollywood uses the convention to generate buzz for films and television shows so expect Jackson to be among a list of big names that arrive each year depending on which projects are in development. It also boosts the comic book and related industries by bringing many of the creators to one location where they can mix with fans. In addition, over 500,000 feet of retail space is devoted to all things popular culture, including the booth of Sideshow Collectibles, sponsor of TORn.