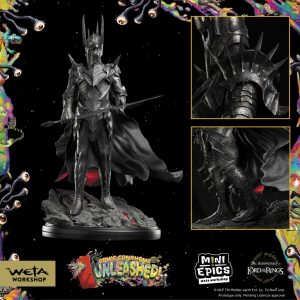 Our friends at Weta Workshop had themselves one heck of a Comic-Con at Home 2021, with the goodies they've unveiled for us. We have a new Mini Epic, helms, a premium statue, a new master collection statue – and that's just from Middle-earth! The new Mini Epic is this year's Comic-Con Exclusive. It's a variant of Saruman, but this time holding his staff and Gandalf's staff as well. This piece comes in with a price tag of $49.99(US), and an edition size online of only 400 pieces.
If you're a fan of the helm line then this Comic-Con was for you, as you got three new additions: two from The Hobbit Trilogy and one from The Lord of the Rings Trilogy. The two from The Hobbit represent helms we saw on the Ringwraiths during the Dol Guldur sequence. Fans can add the helm of the Ringwraiths Khand and Harad, with both pieces coming in at $79.99(US). The Lord of the Rings is being represented by the Uruk-hai Captain's Helm, which also comes in at $79.99(US). The edition size of these three pieces will be set by the number of orders placed by August 5th.
This year's premium statue is the Lord of the Rings himself, Sauron. This statue is a monster in size, and amazing in paint as well as detail. Fans who order him will get – for the first time ever – alternate weapons, with one of them being from a deleted scene! He also comes with a base which contains led lights, to give a glowing lava effect. Sauron comes in with a price tag of $999(US), and fans have time to save for this superb piece as he's not shipping until 2nd quarter of next year. Like the helms, Sauron's edition size is being set by orders received through August 5th.
Continue reading "Collecting The Precious – Weta Workshop's Comic-Con 2021 Goodies"