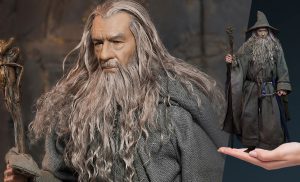 At Comic-Con this year I got a chance to see two brand new figures from Asmus Toys. First is a special version of Gandalf the Grey coming in their Crown Series. This Gandalf includes a boat-load of items including a awesome base with the gate and party-sign leading into Bag End. You can get this extremely awesome version of Gandalf for $350 and he's due to ship between January and March of next year.
The other new item is a great looking version of Theoden. The detailing of the armor itself is incredible and he also comes with a load of extras such as Herugrim with sheath belt, and forearm and calf pieces. Fans can grab Theoden for $190 and for those who hate to wait, this piece will be available between August and October of this year. Both of these figures will look awesome in any collection and give lucky fans plenty of display options.
Specs for Gandalf the Grey:
ASMUS TOYS THE CROWN SERIES: GANDLAF THE GREY
The Crown series Gandalf the Grey Sixth Scale Figure features:
Asmus ADAM body
Approximately 30 cm tall
Over 36 points of articulation
Features:
Super detailed head sculpt accurately to the movie actor, with hand glued real wool beard and hair.
Rotatable eyeballs
One pair palm opened aged man hand
One pair relax gesture aged man hand
One pair of weapon holding gesture aged man hand
One finger pointing gesture aged man left hand
One reading gesture aged man left hand
Special features on Clothing:
One handmade fabric made wizard hat
One dark grey robe
One dark grey cape
One soil grey inner shirt
One pair of dark blue pants
.One blue leather belt with pattern printing
One pair of handmade fabric boots
Special features in weapons:
Glamdring (with elvish printing)
Two wizard staff
One Gandalf's pipe
Accessories:
One Asmus Toys Crown series display base with Hobbiton diorama
Special features:
Specs for Theoden:
ASMUS TOYS THE LORD OF THE RING SERIES: THÉODEN
THÉODEN Sixth Scaled Figure features:
Authentic and detailed fully realistic likeness of Théoden from The Lord of the Rings trilogy.
• Asmus Toys KP+ 1.0 male body
• Approximately 30 cm tall
• Over 32 points of articulation
Features:
• One pair of relaxed posture hands
• One pair of weapon holding hands
• One pair of fist posture hands
Special features on Clothing:
• One pair of dark red sleeved blazer
• One pair of green pattern collar blazer
• One pair of long underpants
Special features in armor:
• One Théoden's helmet
• One full body armor including shoulder pieces
• One pair of forearm band
• One pair of fish-scaled armor skirt
• One pair of calf piece
• One pair of braced boots (enhance ankle joint)
Special features in weapons:
• One Herugrim (die-cast)
• One sheath including belt
• One Théoden's shield
Accessories:
• One Asmus Toys figure stand