August 4-6 saw LeakyCon happening in Chicago, and various cast members from Peter Jackson's The Lord of the Rings movies were there. (LeakyCon fully supported SAG-AFTRA members appearing at the con, stating, '… we have removed direct reference to their projects that fall under TV/Theatrical Contracts so that they can continue to appear without promoting these projects.') So the fun was able to go ahead – and staffer Entmaiden attended for TORn. Here's her write up: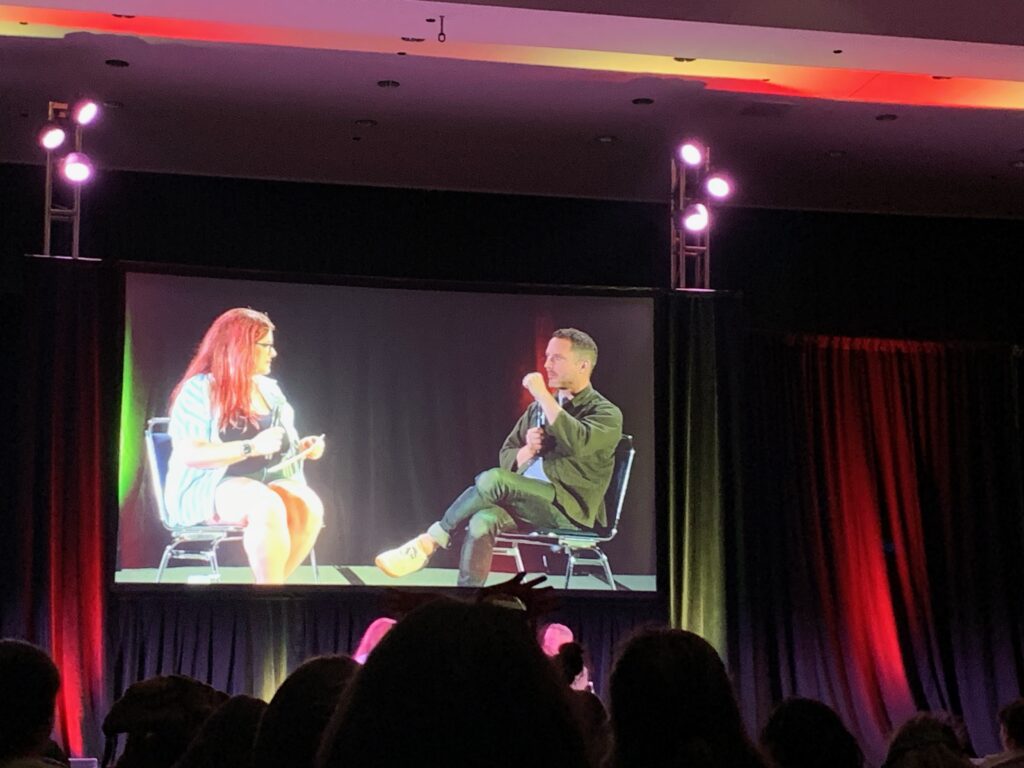 ELIJAH WOOD AND SEAN ASTIN AT LEAKYCON
Since 2009, LeakyCon has been a community-focused fan event that provides opportunities to celebrate magical movie franchises with creators, artists and fans. TORn staffer Entmaiden was able to attend this weekend's event in Chicago. LeakyCon originated with a focus on the Harry Potter movie series, but recently the organizers invited cast members from The Lord of the Rings movies. Sean Astin, Elijah Wood, Miranda Otto and Kiran Shah participated this year.

Entmaiden was delighted to attend the spotlight sessions with Elijah Wood and Sean Astin on Saturday. In support of the on-going strike by members of SAG/AFTRA actors and WGA writers, Elijah and Sean did not speak specifically about their filming experiences. While we might not have been able to explore the behind-the-scenes film stories, the spotlight sessions gave the audience a chance to learn how Elijah and Sean became actors, and uncover a couple secrets about their personalities. Some elements of the journey for both Elijah and Sean are well-known: both started acting very young, and their early acting experience helped prepare them for the enormous success of LOTR films.

It's been 20+ years since the first film was released, and both Sean and Elijah have seen changes in their lives. Sean's youngest daughter is about to turn 21 and he is NOT READY! He reflected on his own childhood, where even as the son of famous parents (Patty Duke and John Astin), Sean was able to play Little League like the other kids. His daughters also had to navigate childhood with a famous father, with the complication of social media. Did you know that Sean is a ferocious Monopoly player? He has a thorough understanding of the rules, and applies them rigorously. Sean takes no prisoners when it comes to Monopoly, and some friends and family members avoid playing with him!

While Sean was married with children when filming in New Zealand, Elijah was single. He recently revealed he has two children with long-time partner Mette-Marie Kongsved, a Danish film producer. He didn't speak much about his children at LeakyCon, but he frequently referenced how his life has changed now he's a father. But some of the things long-time fans know are the same: Elijah is still a massive music lover, and a big-time foodie. He even gave the fans tips about good frozen pizza, which he confessed to eating as often as he can.
Thanks to LeakyCon for inviting TORn, and for such a fun event!