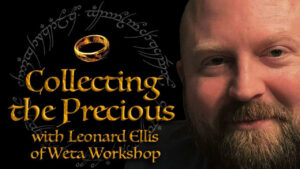 Earlier this year we sat down with Leonard Ellis of Weta Workshop to talk about the process of creating Middle-earth collectibles. Leonard was very generous with his time and shared with us what it's like to take something we saw on screen and then turn it into something, that we, as collectors, would love to purchase. We mainly focus on the process of dealing with different environments and items that are already available for purchase.
We hope you enjoy hearing all the wonderful information that Leonard shares with us during this episode.
Please note that there are occasional audio issues and we apologise for these.