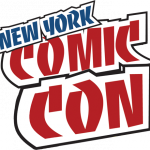 New York Comic Con is almost here – the fun starts tomorrow, and runs 4-7 October at the Javits Center. You can find TheOneRing.net at booth number 1678; please come and say hi! We'll have buttons and shirts for sale – this year's designs for t-shirts are 'Top Ten Authors' (the Professor is of course #1!), and 'Not all those who wander are Lost'. We also have our usual 'lucky dip' with some amazing prizes to be won.  Be sure to come and find us!
And don't forget – we're teaming up with Sideshow to host a party in Manhattan! Tickets are still available for Ringers take Manhattan on FRIDAY 5th October 8-11pm at Tir na Nog pub in Times Square – that's 315 West 39th Street.
You don't have to be attending New York Comic Con to come along – all are welcome! Tickets are only $15 this year – and include your first drink, finger food throughout the evening, and two tickets for the evening's fabulous raffle. You can buy tickets by clicking here.
Looking forward to seeing lots of Middle-earth fans this weekend!
[Buy tickets for Ringers take Manhattan here]