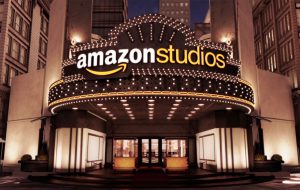 News just in from our friends at Amazon Studios – team JD Payne and Patrick McKay are on board to develop The Lord of the Rings Original Series. Here's what the press release tells us:
After a long process and extensive search, which involved going to Middle Earth and back, Amazon Studios is thrilled to share the news with fans, elves and the Amazon Prime Video audience everywhere that we have chosen the duo of JD Payne and Patrick McKay to take us on the development journey for The Lord of The Rings.
Of their involvement in The Lord of the Rings, Payne & McKay said: "The rich world that J.R.R. Tolkien created is filled with majesty and heart, wisdom and complexity. We are absolutely thrilled to be partnering with Amazon to bring it to life anew. We feel like Frodo, setting out from the Shire, with a great responsibility in our care — it is the beginning of the adventure of a lifetime."
Writers JD Payne and Patrick McKay have been working together since meeting on the high school debate team more than two decades ago. Their most recent projects include writing Star Trek 4 for Paramount and producer J.J. Abrams, adapting Jungle Cruise for Disney and stars Dwayne Johnson and Emily Blunt, and setting up their original, 2017 Blacklist drama scriptEscape with Academy Award-nominated producer Mike DeLuca.
Finally, while speculation is human nature, you can trust that when we have more news to share about this journey, we will share it with the world.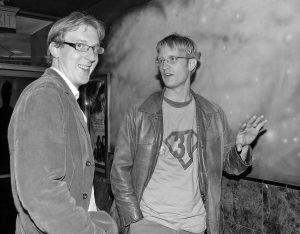 About The Lord of the Rings Original Series
Based on the celebrated fantasy novels by J.R.R. Tolkien, Amazon Studios has a multi-season commitment for The Lord of the Rings. The upcoming Amazon Prime Original will be produced by Amazon Studios in cooperation with the Tolkien Estate and Trust, HarperCollins and New Line Cinema, a division of Warner Bros. Entertainment.
Set in Middle Earth, the television adaptation will explore new storylines preceding J.R.R. Tolkien's The Fellowship of the Ring.
A world-renowned literary work, and winner of the International Fantasy Award and Prometheus Hall of Fame Award, The Lord of the Rings novels was named Amazon customers' favorite book of the millennium in 1999 and Britain's best-loved novel of all time in BBC's The Big Read in 2003. Its theatrical adaptations, from New Line Cinema and Director Peter Jackson, earned a combined gross of nearly $6 billion worldwide. With an all-star cast that included Elijah Wood, Viggo Mortensen, Ian McKellen, Liv Tyler, Sean Astin and Orlando Bloom, The Lord of the Rings trilogy garnered a combined 17 Academy Awards, including Best Picture.
Amazon may tell us that they will share any news when they have it, but rest assured, here at TORn we'll be speculating all the way through to the first episode and beyond! Stay tuned…