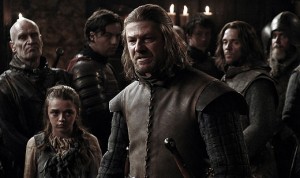 And then there were eight… It's Quarter Finals time in this year's Middle-earth March Madness – and Round 3 was a decisive round indeed. The people have spoken, and made it clear that alter-ego interlopers shall go no further; every duel in the last round was won easily by the Professor's creations.
Benedict Cumberbatch's Sherlock Holmes (Sherlock) put up the best fight, taking a third of the vote against Elrond. Only two other non-Tolkien characters managed to climb over 20%: Karl Urban's Leonard McCoy (Star Trek) fought hard but was no real competition for Galadriel, with the high elf in the end claiming more than three quarters of the vote. Alas, another Sean Bean character bites the dust prematurely; Eddard Stark (Game of Thrones) clawed his way to almost 29%, but could not hope to defeat the valiant Samwise Gamgee.
Martin Freeman's John Watson (Sherlock) was thrashed by Gandalf, and David Wenham's Carl (Van Helsing) received a similar humiliation at the hands of Gollum.  At least, however, they made it into double figures; poor Rudy (Sean Astin) could only manage 7.13% against Gondor's king. Aragorn's triumph in that pairing will come as no surprise to anyone.

It was perhaps the 'schizophrenic' contests which were most interesting in this round; Christopher Lee faced himself as both Saruman and Count Dooku (Revenge of the Sith), and we wondered which way Lee Pace fans would vote, when having to choose between Thranduil and Ronan (Guardians of the Galaxy). Once again, the Middle-earth characters reigned supreme; Count Dooku couldn't even manage to wrestle 9% of the votes away from Saruman.
So here we are at Round 4 – denizens of Tolkien's realm all the way! The choices are tougher now; does Sam stand a chance against Strider? Will Gandalf and Saruman throw some break-dance moves in their fight, and will Saruman come out victorious? (Is he facing Gandalf the Grey or Gandalf the White? – you decide!) In the mighty battle of the elves, can Thranduil of the woodland realm possibly pose a threat to Elrond Half-elven? And is there anything the tricksssy Gollum can do, to give him a chance against Galadriel?
Quarter Final voting is open NOW, and runs until 10pm EST on Saturday 31st March. The Semi Finals will then start on Sunday 1st April. You can also take part in the 'exit polls' on Facebook, if you want a second chance to voice your opinion! Who looks set to take the ultimate crown this year…?  VOTE NOW![Elite Eight] [Round 3 Bracket] [Round 2 Bracket] [Round 1 Bracket]


Division I – Elite Eight
March 29th – March 31st 2018

Division II – Elite Eight
March 29th – March 31st 2018

Division III – Elite Eight
March 29th – March 31st 2018

Division IV – Elite Eight
March 29th – March 31st 2018