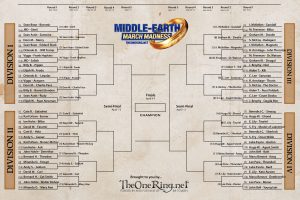 Who has made it through to the second round of Middle-earth March Madness 2018? There were some tough battles in the first round – and difficult choices for voters to make! Frodo vs Pippin; Gandalf vs Bilbo; Kili vs Nori… Whilst we may have a pretty shrewd idea who might win in such contests, it's tough to have to see some of these characters fall at the first fence…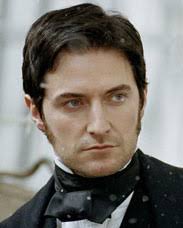 Some of the results are what one might expect. Galadriel easily overcame Eomer in Division II, with almost three quarters of the vote. In the same bracket, Andy Serkis' Caesar put up a tough fight, but in the end he was no match for Cate Blanchett's Hela (from Thor: Raganok), who took just over 60% of the vote. No-one would be particularly surprised to see that Magneto beat John Thornton (Richard Armitage's dreamy role in North and South, but clearly no match for an X-man); and perhaps it was inevitable, in the clash of mighty wits, that Sherlock Holmes (as played by Benedict Cumberbatch) would beat Oscar Wilde (Stephen Fry).
More surprising was the victory in Division I of Gimli over Boromir. In a closely fought duel, the dwarf took just over 51% of the vote, dismissing any hopes of a Boromir vs Eddard Stark show down in Round 3. Fans will be relieved to know, however, that for once a Sean Bean character has stayed alive – thus far! – with Stark beating Will Turner (Pirates of the Caribbean) to go through to the second round. Now he faces Frank Hopkins, as played by Viggo Mortensen in Hidalgo.  Be sure to vote for Eddard if you want to see a Sean Bean role survive to the end!
Another upset was the defeat of Ian Holm's Bilbo by Faramir. The Lord of Gondor's success may be short lived, however – he faces Galadriel in Round 2.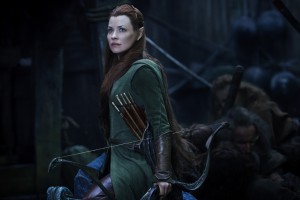 In Division IV, Elrond demonstrated that he should have gone with the Company to the Lonely Mountain; he defeated Smaug with a fairly convincing victory of 57.95% to 42.05%. Now the high elf will face the movie elf, Tauriel, in Round 2; we have a pretty good idea how that will go down, but if Tauriel fans come out and vote, you never know…
Round 2 voting is open NOW, and goes until 10pm EST on Sunday 25th March. We'll announce winners and launch Round 3 on Monday 26th. You can also find some fun 'exit polls' on Facebook – a chance to see how people are voting in one or two of the face-offs. Want Samwise to defeat Gimli? Hoping John Watson might overcome Magneto? Keen to see Count Dooku bested by The Doctor? Then join the Madness and VOTE NOW (below)! [Round 2 Bracket] [Round 1 Bracket]


Division I – Round 2
March 22nd – March 25th 2018

Division II – Round 2
March 22nd – March 25th 2018

Division III – Round 2
March 22nd – March 25th 2018

Division IV – Round 2
March 22nd – March 25th 2018