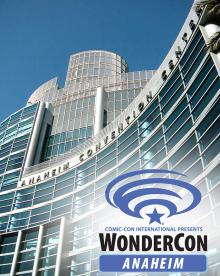 Spring is about to roll in, bringing with it longer days, milder temperatures, trees in blossom and flowers bursting out in a riot of color, and the ensuing allergies. Spring also brings Tolkien Reading Day on March 25th, and in Anaheim, California it brings Wondercon, the little sister to San Diego International Comic-con.
This year, we have our panel scheduled on Sunday, March 25th, coinciding with Tolkien Reading day, so do expect some reading of the Professor's text during the presentation. This will be a round up of all things Middle-earth, as you can tell from the title: "Dispatches from Middle-earth: What's new with all things Tolkien" Here are the complete details:
Dispatches from Middle-earth: What's new with all things Tolkien
Sunday March 25, 2018 – – 10:30am-11:30am, North 200B

TheOneRing.net staffers discuss new Tolkien projects coming this year and beyond. They will start off with a discussion about the Tolkien Biopic that recently wrapped filming and then head straight into fact, fiction, and rumors surrounding the new Middle-earth stories coming from Amazon Studios. As in previous years, WonderCon coincides with Tolkien Reading Day, so they will be reading snippets of the Professor's words to further their discussions. Also celebrating the 15th Anniversary of the release of Oscar-winning Lord of the Rings: Return of the King.
North in the room listing refers to the new North building, which is near the Arena, do make sure to have a map or have looked at one to find the new rooms being used this year. While it is expanding, this convention is still so much smaller, more intimate and easier to navigate than SDCC. Our panel is one of the first on Sunday morning, but parking will still be a bit challenging, so give yourself plenty of time to arrive, find parking and get through security and find us in the new building.
We are still researching and finalizing all the little tidbits that will appear in our presentation. But you can expect a little talk about the 15th anniversary of the release of ROTK, info on the Tolkien biopic that has now wrapped principal photography, and the latest info from Amazon Studios regarding the expansion of the Middle-earth universe. 2018 is shaping up to be a marvelous year for fans of Tolkien, with plenty more to come in the years after.