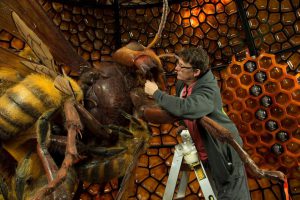 Aussies watching the ABC's News Breakfast show would have seen the exciting news that Weta Workshops latest project is opening today in Melbourne.  This latest project, Bug Lab: Little Bugs, Super Powers,  is a giant-sized exhibition focused on all things creepy crawly.  Anyone familiar with LOTR and the Hobbit will have no doubt how effective these creepy crawlies will appear.  The exhibit consists of six giant replicas and aim to give visitor an up-close view of the micro world beneath our feet.
"We've created large-scale bugs, but more importantly we've created a fantastical environment in which you get to engage with the bugs," Sir Richard said.
The Bug Lab exhibition runs from June 23 to October 15 at Melbourne Museum and you can purchase tickets here.