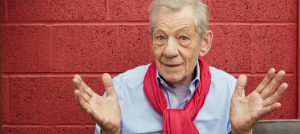 Yesterday it was announced that Sir Ian McKellen will take to the stage this July, in a fundraiser for Park Theatre in London. His new one man show is called 'Ian McKellen with Shakespeare, Tolkien, Others & You', and will run July 3rd to 9th 2017. This extraordinary event gives fans the opportunity to see Sir Ian reprise the roles for which he is best known, including, of course, Gandalf; and with some of the extra 'perks' on offer, there are even chances to enjoy a glass of wine with Sir Ian, or to act with him. Park Theatre tell us:
'Come on a journey with multi-award winning, twice Oscar nominated star of stage and screen Sir Ian McKellen, as he takes you through some of the most exciting pages and stages of his fifty years' acting. Reprising some of his renowned performances, from Gandalf to Macbeth, he will take requests, answer your questions and invite you to act with him. An intimate and unforgettable one man show with one of the world's finest actors.'
Full details of this exciting show can be found here. It is, not surprisingly, already sold out; but don't despair! Park Theatre say they 'may shortly release more tickets'; and there will be £10 tickets available in strictly limited quantities, on the day of each performance. So you may yet be able to spend an evening in such extraordinary company – good luck!