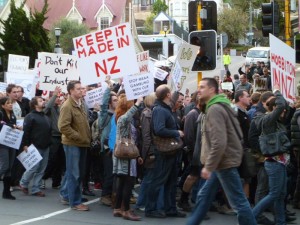 With the news that the NZ Equity Meeting was canceled last night, we are now getting some reports from the ground. Below you will find two reports: One from a witness to the resulting technician march (with pictures!);  Another from a technician marching with some exclusive information. As a quick summary, the general consensus is that the meeting was canceled last night when it was realized the protest group greatly outnumbered those in the actor's equity. However, the worst news comes from Jabes report:
We received news tonight that the Hobbit is essentially lost to NZ, but maybe some drastic act would help brew enough support to present a solid case to Warner/MGM
Thanks to Ringer Caras Galadhon and Ringer Jabes for sharing their reports! Click 'continue' to read them in their entirety.
NZ Technican Jabes:
I work for Weta Digi and was just at the technicians meeting, and subsequent march afterwards. Around 1200 technicians, filmmakers, actors and artists were on the streets of downtown wellington in opposition to the Actor's Equity/MEAA boycott of the Hobbit in New Zealand. Many people, including Richard Taylor, Gino Acivedo, Jaime Beswarick, Allen Lee, John Howe, Phillipa Boyens, multiple New Zealand directors, and many others gave riveting speeches confirming that the NZ government is behind Peter Jackson and the rest of the NZ industry not represented by Actor's Equity; ie, everyone sans 150 or so actors IN THE WHOLE COUNTRY. A meeting was meant to take place in Wellington tonight with Simon Whipp of MEAA in attendance. The meeting was canceled however, when it was discovered that more than 5 times the number of their entire NZ clientel were outside the door in opposition after only a 3 hour notice. We received news tonight that the Hobbit is essentially lost to NZ, but maybe some drastic act would help brew enough support to present a solid case to Warner/MGM. We'll see in the next few days if our demonstration had any impact. Below is a link to an article about the event. I'm sure more will be coming soon. [Article]
Ringer Caras Galadhon: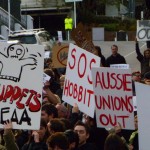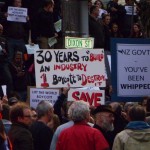 It looks like the NZ film technician meeting TORn reported on moved into a (peaceful) public protest in the evening.
I'm currently in Wellington to do my PhD, and just before 7pm local time I started hearing shouting, chanting, cheering and honking outside my window. Not having been here for long, I assumed it was my first brush with rugby fans, but not long after I started to make out the words being chanted: "Down with unions!", "Save our industry!" and "We want The Hobbit!"
A quick glance outside confirmed what I already suspected, so I grabbed my camera, ran down to the street, and started snapping photos.
It was a reasonably-sized crowd for a short-notice protest, and everyone seemed to be in excellent spirits. As far as I could tell, the spectators — drivers and pedestrians alike — were all for supporting the protesters. There were some great signs, including "Don't Hobble The Hobbit," "We Support PJ," "Keep Hobbit in Hobbiton! (NZ)", and "Ireland is Not Middle-Earth."
The protesters themselves remained at the intersection for a good five or ten minutes after I got there, and I'm sure I'd been hearing them on and off through my window for about ten minutes previously. Eventually, they moved off, and it looked like they were headed in the direction of the Beehive and the rest of the Parliament buildings.
Photos from the march are located here