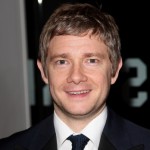 With the recent news, from the somewhat questionable source at The Sun, that Martin Freeman has declined to be a lead in two 'Hobbit' films, it is time to talk Bilbo Baggins.
While we have no information (yet) if Freeman actually turned down the role, we can say with absolute certainty that he was the first choice to step into the hairy Hobbit feet as early as last year. Developing and keeping good sources means that sometimes secrets must stay secret but since Freeman has been outed now, we can definitively declare that 'The Sun' article is absolutely talking about the right actor and so the rest of the story may well have merit.
However, the source, or the authors, seem confused about some facts, leaving the rest it doubt. The story claims in quotes: "MGM, who are making the film, only got a formal offer over in the last couple of weeks."
Those following the production, even moderately carefully, will know that MGM is in deep financial trouble and it seems much more likely that the offer, if a formal one was provided, would have come from Warner Bros. and not MGM which lacks a leadership team. But, if a formal offer did come, it points toward MGM's September 15 deadline as actually having some teeth with significant change in the near future with the legendary studio, allowing production to start on a pair of 'Hobbit' films based on the children's book by J.R.R. Tolkien.
The story also fits with news we heard recently of another round of casting for Bilbo, despite hearing that Freeman was already very much wanted for the role, lending the idea that he no longer in the picture some credibility. On that front we will follow up with a story later and perhaps an inadvertently leaked story detail.
The whole waiting game that forced director Guillermo del Toro to step away from the production and get back to his job or directing movies may have cost the films an excellent 'Bilbo' as well. If readers will permit just a bit of editorializing, this reporter at least was very much looking forward to seeing Martin as Bilbo Baggins and can only hope that 'The Sun' was given incorrect information or that Freeman would reconsider or somehow juggle his schedule and not pass up a role that would immortalize him and deliver perfectly for fans.