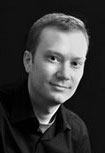 Doug Adams has just announced that the release of his book, "The Music of the LOTR Films", will be tied in to 'another major release'. The downside is they are no longer considering November, 2008 as a potential release date. The upside, however, is that the whole project will take on a larger scale. Doug writes:
Deluxe just got deluxe-er… again… heck, even standard got deluxe-er this time! Oh, and if you're still not convinced, let it be noted that you're also likely to get significantly more unused music in your hands this way. Yes, I said "significantly."
The intriguing question that remains is, what is this other 'major release'? Let the speculation begin.