Welcome to our latest "Getting to know" questions that need answering. This month we're talking to the one and only Balrog Showgirl, Nicole Roberts.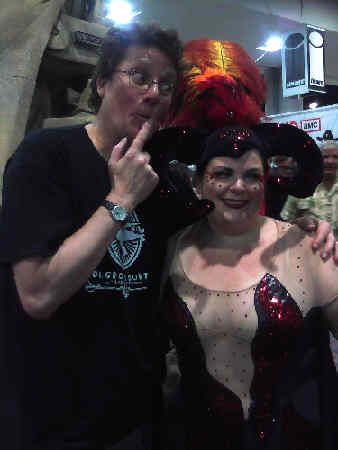 Hi Nicole and a very big thank you for taking part and for being so patient with me.
This first question is from Rosie-with-the-ribbons who's latest costume for RingCon has been inspired by your Balrog Showgirl costume.
R-w-t-r: Do you make your costumes yourself?
Nicole: Rosie – that is awesome!  Yes, for the most part the costumes I've been running around in for the past several years have all been of my own making.  I only started sewing back in 2004, after I moved to Los Angeles and started hanging out with even more LOTR people.  The first costume I made was to wear to Comic Con that year – I was the Mumak Mahud (the guy with the black and white painted face who steers the oliphaunt in ROTK), so you could definitely say I've always leaned towards costumes that were a little off the beaten path!  I've done some costumes that were direct recreations ("Barf" from "Spaceballs"is the most well-known one), but as I've gotten more into the sewing, I really like doing things that are more of an original design, like the Balrog Showgirl.  As someone who is not of supermodel proportions (and seriously, those chicks look like scary walking lollipops anyway), I like to have the opportunity to design something that I think is more flattering to me, and I always like to learn how to do something new, like dyeing feathers for the showgirl headdress.
Posted in ComicCon, Contests, Conventions, Creations, Daniel Falconer, Events, Fans, Hobbit Book, Meet Ups, Miscellaneous, New Zealand, Other Crew, Other Events, Production, Richard Taylor, TheOneRing.net Community, Tours, WETA Cave