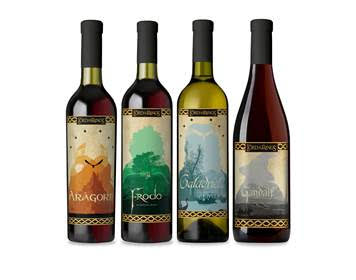 Hobbits, Elves and Humans can toast together this Holiday Season!
Lot18 and Warner Bros. Consumer Products unveil the new Lord of the Rings inspired wine collection.
Just in time for holiday merrymaking, Winemaker Lot18 has teamed up with Warner Bros. Consumer Products to produce a limited-edition collection of wine inspired by New Line Cinema's THE LORD OF THE RINGS Trilogy.
Posted in Events, Headlines, Lord of the Rings, Merchandise, Miscellaneous, Other Merchandise, Shop, TheOneRing.net Announcements, TheOneRing.net Community, Warner Bros.