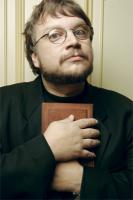 Our friends at Popcorn Taxi have come through with the audio of their August 18 Q&A with Guillermo del Toro regarding Hellboy II to transcribe. The biggest bombshell of the night came near the end of the 42 minute session: The first official news that the scripting team of Peter Jackson, Fran Walsh, Philippa Boyens and Guillermo del Toro had begun writing The Hobbit. Here's how Guillermo described the breaking news:
Guillermo:

"Well the only thing I can say is that we are now finally and officially and merrily in progression on the scripting process. We are all actively working on it and having a grand time at it. It keeps transforming and changing and it is 'the most beautiful' writing experience of my life, I'm enjoying it tremendously – and there's bound to be news soon enough."
Without further adieu, here is the transcript in full of the Q&A session. The Hobbit news can be found at (41:21) on the last page. I would encourage everyone to read the full transcript as Guillermo talks in depth about his early interests in automatons and clocks, his characters, cast, monsters fairies and vampires, children's books, CGI and effects, his childhood, The Golden Compass, spirituality, his inspirations and his perspective of the world he perceives.
  Continue reading ""The most beautiful writing experience of my life" ~ Guillermo talks scripting The Hobbit"