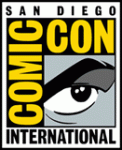 Not officially announced yet by Comic-Con but TheOneRing.net will be kicking off the annual popular culture mega-event known as Comic-Con in San Diego Thursday morning. And the good news is, turned in tickets are NOW AVAILABLE until they sell out again any minute! Click right here immediately and plan to have fun with us Thursday, July 22, 10:30 – 11:30 a.m. room 7AB.
Previous years' panels have had standing-room-only crowds (once infamously featuring the arrest of an unruly patron who couldn't get in). Occasionally guests drop in (the incomparable Richard Taylor last year) to say hello to fans. We promise to deliver the latest Hobbit movie info and perhaps peek behind the curtain of the potential of the Ultimate LOTR Box Set. (Unauthorized of course!) Join founder Calisuri and staffers Quickbeam and MrCere as they deliver from the stage while staffers Deej and Garfeimao will be in attendance and lending a hand.
Also, catch a variety of TORn-folk all show long at the Weta booth (part of the giant Dark Horse Comics booth) where you can help support TORn with a purchase of our convention exclusive t-shirts!