Both CRIMES OF THE FUTURE and THIRTEEN LIVES featured the Aragorn actor in top fashion, yet there was no fan discussion nor viewership numbers worth reporting from any studio. Taking into consideration this was the year of the inescapable RINGS OF POWER, the most expensive TV season ever telling the story of Aragorn's heritage, we have to ask: what happened?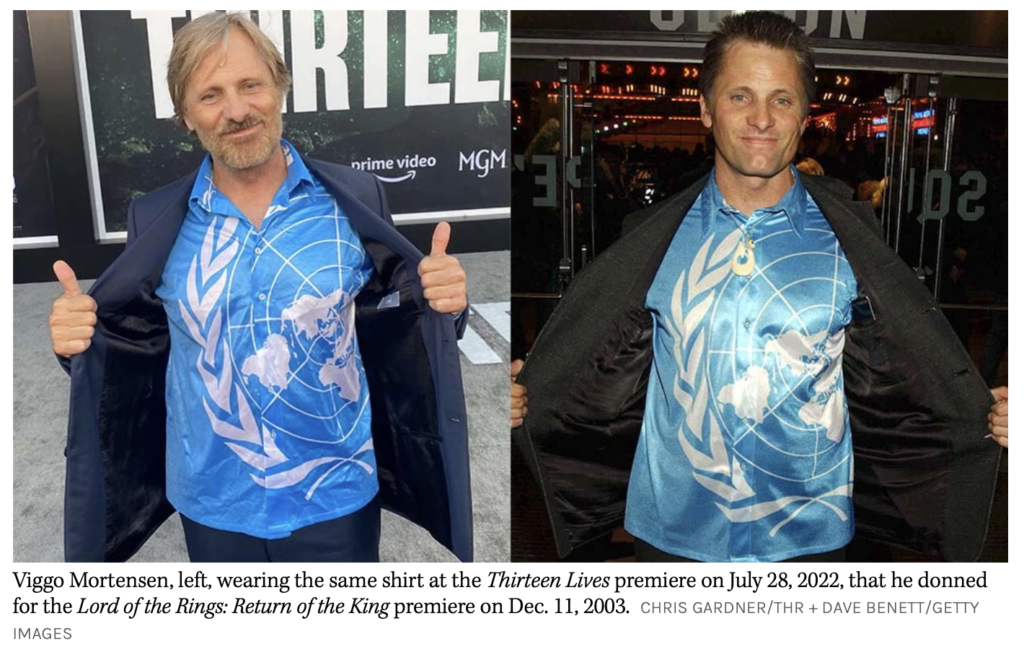 Crimes of the Movie Going
Viggo Mortensen re-teaming with Howard Shore should be enough to grab any LOTR fans attention, then add in that it's David Cronenberg returning to his shock-scifi roots. There should be an ongoing buzz about this in 2022 right? But CRIMES OF THE FUTURE came and went with barely a whisper. According to Rotten Tomatoes it is a respectable 80% Fresh, and JustWatch says it is currently streaming on Hulu.
Not only does it have a new Howard Shore score (who has worked with Cronenberg on most of his films), CRIMES OF THE FUTURE is the fourth collaboration between the director and Mortensen – who was nominated for a Best Actor Oscar for their hit EASTERN PROMISES. Yet there's been close to zero conversation on our message boards or twitter feed, as if nobody gave this film a try.
To be clear, Cronenberg films can an acquired taste and you the viewer should be prepared for full dark, body-shock genre storytelling. This movie was never going to be a blockbuster, but with a very fervent fanbase for both LOTR and Cronenberg and Shore, it's surprising this film didn't find its footing in cinemas or streaming.
THIRTEEN LIVES, NO THEATERS
The other Viggo Mortensen film that should have been a huge 2022 hit is THIRTEEN LIVES, directed by Ron Howard and co-starring Colin Farrell and Joel Edgerton. Critics and audiences agree that this is a great movie! An all-star cast, story ripped from the headlines, with one of the top directors of all time. It also was the best test-scores in MGM studios history.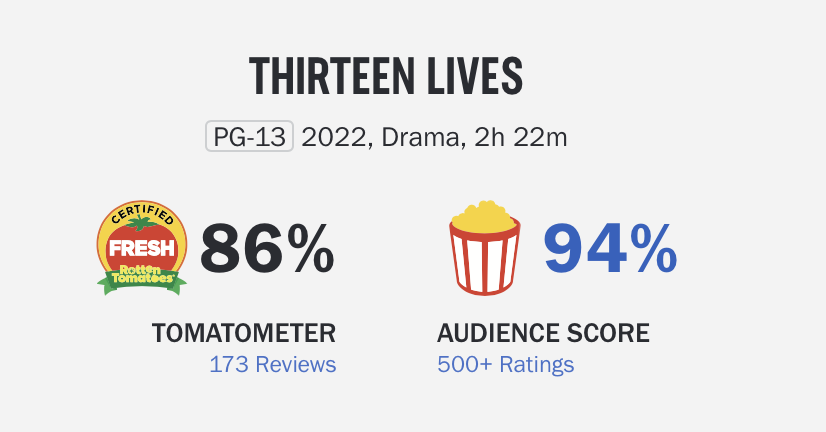 THIRTEEN LIVES tells the story of the cave-diving rescue of a team of kids stuck underground in a Thailand monsoon. There's also a meta-cultural touchpoint since this is the rescue event where Elon Musk called rescuers horrible names and promised a technological solution that never materialized, and Elon is one of the most talked about persons on the internet in 2022 with his takeover of Twitter. So between cultural relevance, meme opportunities, a real human story of heroics, epic test scores, this had all the hallmarks of a huge box office hit. Plus, THIRTEEN LIVES is produced by Amazon Studios, home to RINGS OF POWER.
We can guess why this film was direct-to-streaming, as Amazon wants people to sign up for Prime Video. But this film is a perfect theatrical experience where every thrilling hold-your-breath moment would be shared with strangers in a dark cinema. Prime Video has stated it still believes in theatrical distribution with its recent acquisition of MGM studios, so why didn't this get a summer release? Top Gun Maverick is Tom Cruise's biggest film of his career, while WB released several blockbusters on both HBO Max and theaters simultaneously.
Why wasn't THIRTEEN LIVES put in theaters?
Why didn't Prime offer this movie after each episode of RINGS OF POWER?
Why did Amazon make a movie with Isildur's heir, in a year with their show about Isildur, and not promote it?
Does this movie show up in your Prime dashboard after watching the entirety of Rings of Powers?
Viggo Mortensen is turning in some of the best performances in 2022. As the movie industry enters awards season, maybe these films will get renewed interest and some nominations. Fans of Viggo Mortensen should definitely give THIRTEEN LIVES a go on Amazon Prime, and if you can stomach a jaunt with CRIMES OF THE FUTURE on Hulu.
With many new Lord of the Rings projects on the horizon, maybe there's room for Viggo Mortensen to direct, write, score or star in more Middle-earth. Amazon or Embracer, give him a call.