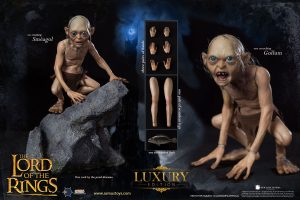 The awesome folks at Asmus Toys are up to some more fun with their 1:6 figure line from The Lord of the Rings Trilogy. They're very excited to announce that the next figure – or figures – is Gollum and Smeagol. Fans can get either of these very well done and seamless figures; or if you want both, you can get the luxury version. Either way you go, this is an absolute win for fans, as you're getting what is the best version of Gollum we've seen done in a 1:6th scale figure. Fans ordering a single Gollum or Smeagol can expect to pay $130; or you can get the luxury version for $270. (This version also comes with a rock base.) This very well done figure will be shipping between April-June of next year; so you have time to save, or use Sideshow's payment system to break down the price a little more.
Here's what our friends at Asmus had to say about their new figure:
Developing an exclusive Gollum body from scratch was required for Asmus to capture his iconic scrawny form. This brand new figure stands at around 20cm tall and has over 22 points of articulation! The first in the Middle-earth series to feature seamless arms and legs, which adds to the realism of the character, still leaving many posable options achievable!

 

Both sculpts feature rooted hair and rotatable eyes to help achieve the perfect expression you are after. Swap out 3 sets of hands, crouching legs and haired hobbit feet. But to top all of that; there's a "juicy, sweet" fish thrown into each box. He doesn't keep nasty chips!

 

Which one will you go for?! Gollum or Sméagol?

 

Can't decide? Why not take both… and more?! The Asmus Toys Luxury Edition includes Gollum and Sméagol figures with the addition of a rock by the pond diorama!