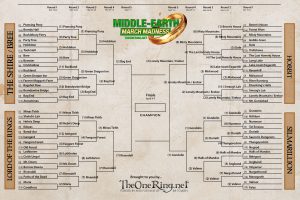 The end is nigh; just two rounds of Middle-earth Map March Madness 2019 remain! We're down to 4 locations; which are still in with a chance for the title of Grand Champion 2019?
Three of our four categories in this round ended up with roughly two thirds to one third results. In The Shire this saw Bag End conquer its home, Hobbiton. In the Hobbit section, the one overcame the many, as The Lonely Mountain defeated the Misty Mountains. And in the Lord of the Rings bracket, the power of the elves remained strong: Minas Tirith could not overthrow Rivendell.
In the Silmarillion group, however, the battle was much closer; and this time, elvish magic did not win the day. Valinor took an early lead, but in the end it was Gondolin which came out victorious, in a narrow victory with 52% of the vote.
Now the brackets mix, for our final two rounds! Bilbo will have to choose between his own home in The Shire, and the home he loves to visit down in the valley, as Bag End takes on Rivendell. Gondolin marches for the Lonely Mountain; can men overthrow the dwarvish kingdom of Erebor? Will it be elvish stronghold vs dwarvish realm in the final, or will a simple hole in the ground (but not a nasty, dirty, wet hole, mind you) be facing off against a mountain? YOU DECIDE! Voting in the Semi Finals is open now, until 10pm EST on Wednesday 3 April. Tell your friends; get your supporters lined up; and VOTE NOW on this post!