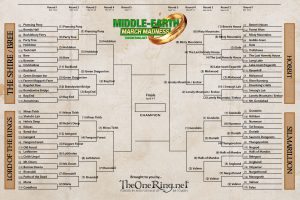 It's Quarter Final time in Middle-earth Map March Madness 2019! 64 locations began this epic battle; now only 8 remain. Which are still with us?
News from The Shire which I personally find tragic: the Green Dragon Inn is out! Alas, the pub could only muster just over a quarter of the vote; Bag End looks like a hot favourite to go all the way in this contest. The Shire's other pub, the Prancing Pony, is also out, beaten by Hobbiton.
In the Lord of the Rings section Minas Tirith easily conquered Fangorn Forest, once again securing a victory with almost three quarters of the vote. The other duel in this bracket was a tough one: Lothlorien vs Rivendell! How did YOU choose between those two elvish strongholds? In the end, it was Elrond who conquered Galadriel, with two thirds of the poll.
For the second round running, the closest face off in this round was to be found in the Hobbit bracket; this time Elrond was not victorious, as the Misty Mountains defeated the Last Homely House, but with only just over 1% in it! The Lonely Mountain had a more convincing win over Mirkwood, claiming almost 70% of the vote.
Finally, in the Silmarillion group Gondolin and Valinor are still cruising through, taking 86% and 85% respectively. Could one of these locations go on to be the overall winner?
Just one more round within brackets remains, and there are some tough choices to be made! Hobbiton takes on Bag End; Minas Tirith throws down with Rivendell; the mountains face off as Erebor challenges the Misty Mountains; and in perhaps the most epics of duels, Gondolin confront Valinor. Which locations will be triumphant, and move on to the semi finals? YOU DECIDE! Voting in Round 4 is open now, until 10pm EST on Sunday 31 March. Rally the troops for your favourites, and VOTE NOW on this post!


THe Shire / Bree – Elite 8
March 28th – March 31st 2018

The Lord of the Rings – Elite 8
March 28th – March 31st 2018

The Hobbit – Elite 8
March 28th – March 31st 2018

The Silmarillion – Elite 8
March 28th – March 31st 2018