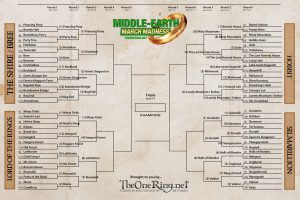 Here we go – Middle-earth Map March Madness 2019 Round 3! We're down to just 16 locations; let's see which have made the cut:
Starting in The Shire, the closest contest was between the Party Tree and the Prancing Pony, with the pub taking two thirds of the vote. All of the other winning locations had over 80% in the polls; Hobbiton easily defeated Bree, and Bag End and the Green Dragon Inn are also going through. Now for some tough pairings! Can the Green Dragon beat Bag End? I'm keeping my fingers crossed…
The Lord of the Rings bracket saw Minas Tirith take three quarters of the vote to see off Helm's Deep; clearly Rohan is no match for Gondor! The power of the elves was in evidence, as Lothlorien and Rivendell easily defeated Mount Doom and Moria respectively. And as one would expect, Fangorn Forest overthrew Isengard; the filth of Saruman is washing away… Now the ents must march to the white city; and we have an elvish smackdown! Who will be victorious when Rivendell takes on the heart of Elvendom on earth? YOU decide! Vote now!
The closest battle of Round 2 was in the Hobbit locations; the Misty Mountains ultimately vanquished Beorn's House, but with only just over half the vote. Smaug's Lair was conquered by its host, the Lonely Mountain; now Erebor faces Mirkwood, as that 'tree infested' area overcame Lake-town. Elves were winning in this bracket too, with the Last Homely House taking over 60% against Dale.
In the Silmarillion category the men of Numenor have been conquered by Gondolin, after putting up a brave fight but only being able to take 40% of the vote. The good guys are dominant in the rest of this category, with Doriath, the Halls of Mandos, and Valinor all cruising to victory, over Angband, Thangorodrim and Nargothrond. Valinor is definitely the location to beat in this bracket; can the Halls of Mandos put up a good fight in Round 3?
The biggest victor in this entire round was Bag End, so that seems to be the odds on favourite now. (Come on Green Dragon!!) The power is in YOUR hands, and voting in Round 3 closes at 10pm EST on Thursday 28 March: VOTE NOW! In this round you will be able to check the results as the polls unfold; so check back often to see how your favourites are doing, and to rally support around them if need be! [View Full Round 3 Bracket]
Vote Below!


The Shire / Bree – Round 3
March 26th – March 28th 2018


The Lord of the Rings – Round 3
March 26th – March 28th 2018


The Hobbit – Round 3
March 26th – March 28th 2018


The Silmarillion – Round 3
March 26th – March 28th 2018