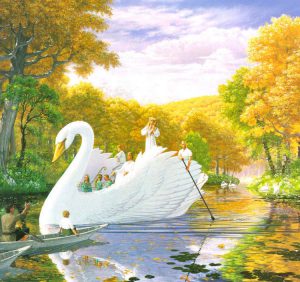 Signum University and the Mythgard Institute are proud to announce LAMoot, the first annual Southern California symposium dedicated to the exploration of speculative fiction, mythology, and medieval literature and languages.
This one-day event will investigate the challenges of adapting literature to other media, including art, film, television, video games, and music. LAMoot will feature a keynote address by Signum President Corey Olsen (The Tolkien Professor), a panel of invited guests, discussion panels, and time for fellowship with like-minded professionals, academics, and enthusiasts.

LAMoot is an inclusive creative space uniting scholarship with creativity. We invite you to participate and are seeking proposals for presentations involving the adaptation of everything from science fiction to fairy tales to Norse mythology. Please visit our website for the call for proposals.
LAMoot will be held on Saturday, October 27, 2018 at the Westwood Gateway at Santa Monica and 405 in the Elite Conference Room located in Suite 150 at 11100 Santa Monica Blvd, Los Angeles, California, 90025. Visit our 
Website
 for more information
 TheOneRing.net will be on hand to discuss recent past Adaptations and what we anticipate for the new Amazon series.