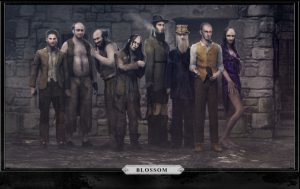 A week or so ago, we reported that Graham McTavish (aka Dwalin) is going to be directing his first movie, a horror comedy called This Guest of Summer. He'll be joined in it by fellow dwarf actors Adam Brown (Ori) and Dean O'Gorman (Fili), along with Graham's Outlander chums Stephen Walters (Angus) and Duncan Lacroix (Murtagh).
Having promised to keep TORn in the loop (and let us have behind the scenes access when filming gets going!), Graham has been in touch to let us know the crowdfunder has passed the halfway mark!  They've also been adding many cool 'perks' along the way. For example, you (well, your photo!) could appear as part of the set dressing of the film. Or you could have a unique piece of art work created specially for you by a cast member (imagine if Dean O'Gorman wrote you a poem…!)  Or – in the 'Grand Perk package' – you could have a special guided tour of Hobbiton in New Zealand with Graham himself!
Here's Graham to tell you a bit more about the film:
And this is what Dean O'Gorman has to say:
Check out the Indiegogo campaign here, show the lads your support, and see what goodies you might like to claim! And watch TORn for news as filming gets underway.