It's been an interesting couple of weeks… Since March 19, characters from Middle-earth, and other roles played by the same actors, have been battling it out to claim the title Champion of Middle-earth March Madness 2018. We started with four brackets comprising roles from The Lord of the Rings movies, other roles by those same actors, roles from The Hobbit movies, and alter-egos for those cast members. The brackets were mixed, to give actors a chance of coming up against 'themselves' – and indeed in Round 3 we did see Christopher Lee's Saruman go up against his Count Dooku, and Lee Pace's Ronan face his majestically-eyebrowed Thranduil.
Boromir fell in the first round, defeated by Gimli, but Sean Bean's Eddard Stark did make it all the way to Round 3, where he was conquered by eventual semi-finalist Samwise Gamgee. Sam made it the furthest of all the hobbits; Merry and Pippin both went out in Round 1, and Frodo fell to Aragorn in Round 2. Both Martin Freeman's and Ian Holm's Bilbos were knocked out back in Round 1; they had tough battles, being drawn against Gandalf and Faramir respectively.
The elves fared rather better, with Galadriel, Elrond and Thranduil all getting through to the Elite Eight (though Legolas, alas, could not get past Aragorn in Round 1). Wizards Saruman and Gandalf joined the elves in Round 4; but poor Radagast was beaten by Dwalin way back in the first round. In the world of men, only Aragorn managed to get as far as the Elite Eight; Dr John Watson, Sherlock Holmes, Dr 'Bones' McCoy, Rudy, and Carl from Van Helsing all joined Eddard Stark in being vanquished in the Sweet Sixteen round.
Finally it came down to a duel between Elrond Half-elven and Gollum. The votes have been counted, and we can now announce, this year's winner is…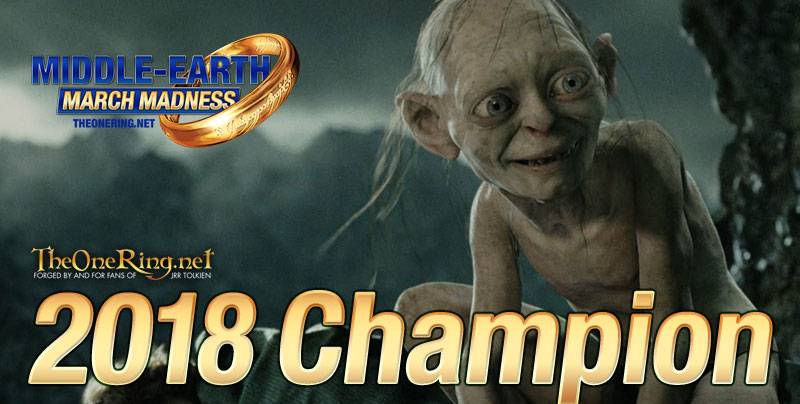 GOLLUM! That's right, Stinker, Slinker, and Smeagol will all be celebrating, as Gollum is crowned Middle-earth March Madness Champion for the first time. His victory over Elrond was a surprisingly easy one, with the elf only managing to claim just under 38% of the vote. Our Facebook 'exit poll' suggested quite the opposite – there, Lord Elrond had 65% of the votes. Clearly, those folks didn't make it over to the homepage to support their choice and see him home to victory!
The 2018 edition of Middle-earth March Madness was one to remember, with over 160,000 votes cast! We hope you all enjoyed this year's edition of Middle-earth March Madness – thanks for playing along. That's it for 2018; join us same time, same place next year for more fun and games.
[The Final] [The Final] [Final Four] [Elite Eight] [Round 3 Bracket] [Round 2 Bracket] [Round 1 Bracket]