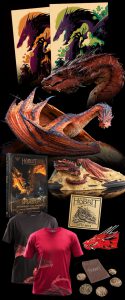 Our friends at Weta Workshop are Smelebrating Smaug this month as well as the birthday of Smaug himself Benedict Cumberbatch. Weta is unleashing a Dragon's share of discounts on various Smaug related collectables. Just some of the Smaug goodies fans can get are: Smaug the Terrible: Premium statue $549 USD, Smaug – King under the Mountain $99 USD, Smaug the Terrible – Bust $299 USD, Smaug's Treasure: Coin Pouch with Coins $19.99 USD, and Smaug T-Shirt $20 USD.
Dol Guldur Question #3 also released.
Now in week six, the hugely popular Dol Guldur competition is heating up. Answer a new question every two weeks until 31 August, and you're entered into the draw to win the full Dol Guldur collection. This set will be signed by Weta Workshop co-founder Richard Taylor, artists Leonard Ellis and David Tremont! Fans we're halfway to the end of this competition. Do not waste a chance to own some awesome stuff by Weta and signed by Weta.