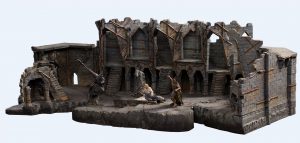 One of the new items introduced at last year's Comic-Con was the 1:30 range of collectibles where fans can recreate scenes from both of Peter Jackson's Middle-earth trilogies. The first set to start things off is the recreation of the scene from Dol Guldur during The Hobbit: The Battle of the Five Armies. Besides how well it is done, the beauty of this set is that fans can moves things around to create their own version of the events.
However, that's not the best news that we have to report to you today. You can WIN THIS SET SIGNED by Weta's own Richard Taylor, Leonard Ellis, and David Tremont. The full set includes any figures and diorama segments not yet released in the Dol Guldur 1:30 scale series. How do you win this set? Entering is simple. All you have to do is answer a new question every two weeks until August 31st. That's five questions about the Dol Guldur range. Question 2 is currently out now.
If you haven't entered the competition yet, no problem. Just follow the link to get started: Signed Dol Guldur Set
We also have something very cool to announce. We've done a lot of cool things with Weta and this giveaway is just another. The other cool thing to announce is we have Weta's very own Anthony Upton happy to answer any questions within the comment section of any article as well as within the collecting section of the forums. Otherwise, please email him at support@wetanz.co.nz. Anthony's role with Weta is their Customer Service Administrator. He will be able to answer all of your questions any time you see something new announced from Weta. We also highly recommend subscribing to Weta's Collectibles Newsletter for all of the news on Weta be it Middle-earth or another property Weta is involved with.