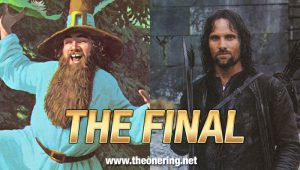 And then there were two… We're down to the Grand Final in Middle-earth March Madness 2017 – only one can emerge as this year's Champion. Here's what happened in the Final Four stage:
In Books Only vs Movies Only, we had Tom Bombadil dancing rings around loyal steed Brego, who just couldn't come up with any answers to the yellow-booted fellow. Alas, (for those of us who were hoping for an Aragorn vs Brego final), Bombadil took almost two thirds of the vote to win this fight.
Wider Mythos vs Movie and Book saw Luthien take on a man who knows a bit about immortal elf maidens, and what it means to give your heart to one. With a similar margin to the other Semi Final, Aragorn easily defeated the pointy-eared warrior to claim his place in the Final.
Here are the full results for Middle-earth March Madness thus far: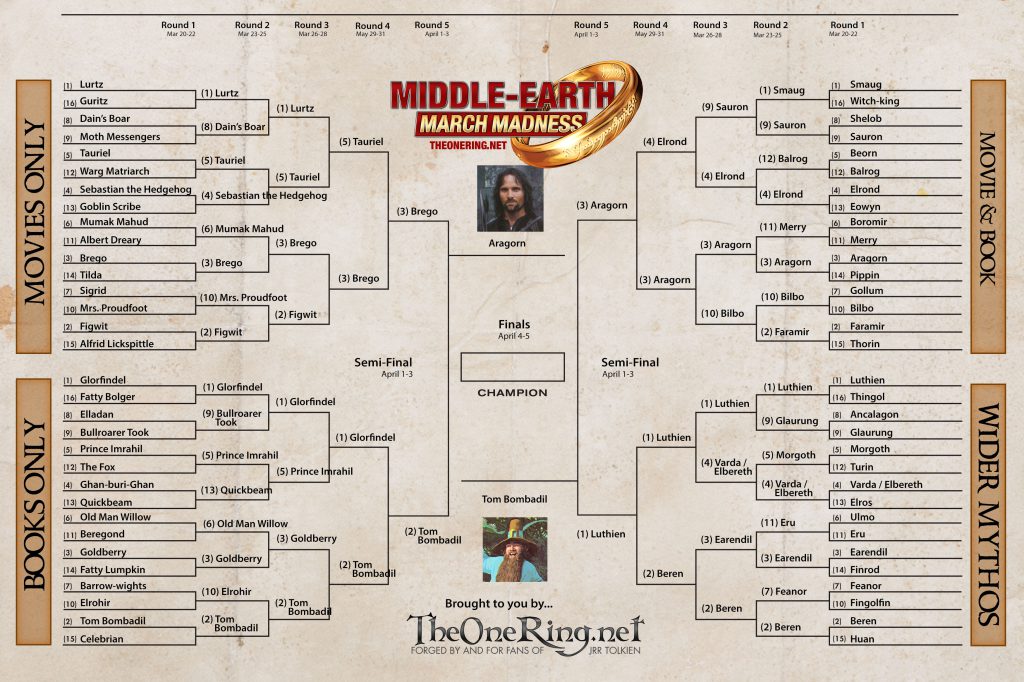 And so we come to it at last – the great battle of our time. This year's Championship Round in Middle-earth March Madness sees Strider, the Ranger from the North, take on Tom Bombadil, the River-woman's daughter's husband… How will these characters match up? Let's take a look at some vital statistics for them both:
ARAGORN:
Aliases: Elfstone, Strider, Longshanks, Wingfoot, Elessar, Thorongil, Estel ('Hope'), Telcontar, The Dunedan, the Renewer, Isildur's Heir
Date of Birth: TA 2931
Race: Man of Gondor, of Isildur's Line
Date of Death: FA 120
Parents: Arathorn, Gilraen
Spouse: Arwen Evenstar (married TA 3019)
Children: Eldarion, and several daughters
Tolkien describes Strider as tall, with 'a shaggy head of dark hair flecked with grey, and in a pale stern face a pair of keen grey eyes.' Raised by his mother at Rivendell, with Elrond as a surrogate father, he there met Arwen Undomiel. After meeting Frodo at The Prancing Pony in Bree, he became part of the Fellowship, which he then led after Gandalf's fall in Moria.
Aragorn has participated in Middle-earth March Madness every year; he was last in the final in 2012, when he was defeated by Samwise Gamgee.
TOM BOMBADIL:
Aliases: Iarwain Ben-adar ('Oldest and Fatherless'), Forn, Orald, the Master of wood, water, and hill
Date of Birth: Unknown. He says of himself, 'Eldest, that's what I am … Tom remembers the first raindrop and the first acorn … When the Elves passed westward, Tom was here already … before the Dark Lord came from Outside.'
Race: Unknown. Elrond calls him 'a strange creature'
Spouse: Goldberry, known as 'River-woman's daughter"
Very little is known of Tom Bombadil. He lives in the valley of the Withywindle river, by the Old Forest. We know plenty about his appearance – Tolkien describes him as wearing 'an old battered hat with a tall crown and a long blue feather stuck in the band.' The Professor goes on: 'a man, or so it seemed. At any rate he was too large and heavy for a hobbit, if not quite tall enough for one of the Big People … stumping along with great yellow boots on his thick legs … He had a blue coat and a long brown beard; his eyes were blue and bright, and his face was red as a ripe apple, but creased into a hundred wrinkles of laughter.' He has extraordinary power within his own domain, commanding Old Man Willow and the Barrow-wights to release the hobbits, and being totally unaffected by the power of the Ring. He seems, however, to live somewhat outside the world, being mostly unconcerned with the goings-on of the other races of Middle-earth.
Bombadil has been in Middle-earth March Madness several times, but has never before made it past Round 2.
If Bombadil and Aragorn were to ride into battle, Aragorn (in the movies, at least) would ride in on Brego; Tom would come on his faithful pony, Fatty Lumpkin.
Will Strider be overcome by ancient and powerful magic? Or will Tom's nonchalant attitude be defeated by the warrior skills of the Ranger from the North?
VOTE BELOW!

Championship Round
April 4 – April 6 2017

Yup – we extended the voting one day, just for fun! Enjoy!