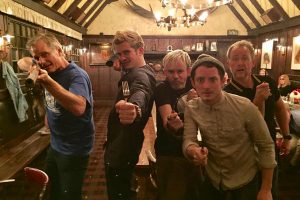 Sunday 12th February the British Academy of Film and Television Arts held their annual film awards. Our favourite citizen of Lake-town Luke Evans was there as a presenter; and even more excitingly for Middle-earth fans, Viggo Mortensen was nominated in the Leading Actor category, for Captain Fantastic. (The award went to Casey Affleck, for Manchester by the Sea.)
Mortensen was of course on the red carpet, where he was interviewed by Zoe Ball. Many of you will have seen the fabulous picture (right) of Mortensen hanging out with an elf and some hobbits, the day after the Screen Actors Guild awards. In the Bafta interview, he explained how that came about. Take a look:
It's heartwarming to know that the bonds forged amongst the cast of The Lord of the Rings are still as strong today –  just as the friendships and connections we fans have made are unbreakable. I'm told that in Finland they celebrate friendships on Valentine's Day – seems a good time to raise a glass to Fellowship! Cheers!