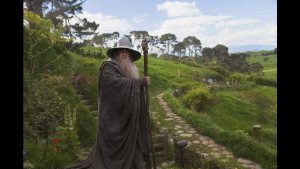 As part of the celebrations of the fifteenth anniversary of the release of Peter Jackson's The Lord of the Rings: The Fellowship of the Ring, Tourism New Zealand has launched a new way to explore the country that has become, for many, the 'real' Middle-earth.  They tell us:
'To celebrate New Zealand being the real Middle-earth for 15 years (since the first Lord of the Rings film) we have come up with a new way to take you on an adventure.
Imagine if you travelled the real Middle-earth like a Hobbit – what journey would you take? What if you were an Elf? A Dwarf? A Wizard? 'Middle-earth travel' aligns the characters to the NZ experiences they would do, on their New Zealand holiday.
Consumers will take a quiz to discover what character they are, and will receive a personalised message from Peter Jackson saying:
What character they are
Providing them with a customised itinerary through NZ
Providing them with a shareable video of 'What to pack' for their journey to Middle-earth'
You can take the quiz on Tourism New Zealand's Facebook page, 100% Pure New Zealand; or you can find it on their website, here.
They also shared with us two fun articles: 15 Middle-earth stars profess their love for New Zealand and How to travel like a hobbit in New Zealand.
Many airline companies have sales on around this time of year, so if you're inspired, maybe 2017 will be the year you make your own Unexpected Journey to Middle-earth? Or at least we can all enjoy pictures from 100% Pure New Zealand, whilst we dream of such a voyage…!