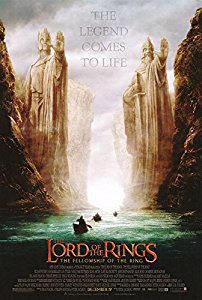 TheOneRing.net isn't the only news site reporting on the 15th anniversary of the release of The Lord of the Rings: The Fellowship of the Ring this week. Leigh Blickley, Senior Editor at The Huffington Post, takes us on a bit of a walk down memory lane in her article that looks back at the many people and circumstances that came together to produce the fantasy classic.
"Fifteen years ago, Hollywood was abuzz as director Peter Jackson geared up to release the first installment of his screen adaptation of J.R.R. Tolkien's fantasy novel, The Lord of the Rings. The film series was the talk of the town, considering Tolkien fans were chomping at the bit to see Jackson's cinematic imagining of Middle-earth. The somewhat unknown filmmaker took on one of the most expensive and ambitious projects in cinema history, and many worried he would flounder in bringing the beloved epic to life. 
Well, Jackson delivered something far more incredible than what anyone was expecting."
We have to agree with you, Leigh! But, we're not the only ones. Later in the week we'll take a look a the many reviews of stunned (in a good way) critics and fans alike. In the mean time, you can read the full HuffPost article here.